President
Anne McIntosh
752-4042
Vice President
Neil Anderson
873-2356
Sec./Treasurer
Darlene McCullough
873-2030
The November meeting of the Parkland Photography Club was held in the Doghide Gallery on Tuesday, November 25. In the absence of the president, Anne McIntosh, Vice- President Neil Anderson chaired the meeting. There were thirteen members present.

Darlene McCullough made the members aware of a possible digital image competition coming up in the new year so that each member could be selecting an image for that. We are allowed to enter eight images from our club so this involves a judging of the submitted images in order to select the best eight from our club.

The theme shoot for November was Stone(s) and there were 12 entries. Once the club members had completed judging these entries, first went to Alan Caithcart with his photo of a soapstone carving, second to Neil Anderson with his black and white photo of a creek bed, and third to Glen Galloway with his collection of stones.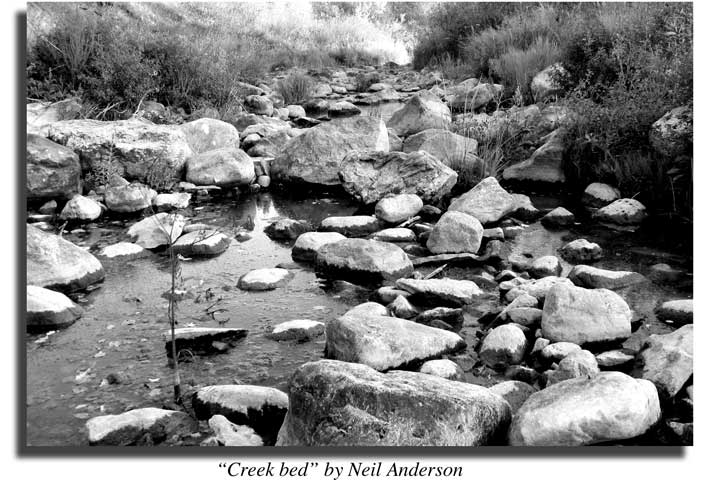 Neil Anderson presented some information on the use of a telephoto lens. They have a 70 to 300 lens and Neil used photos taken with it as illustrations as to the differences this lens can make and when it can be very useful. He showed some portraits, and wildlife photos where one is unable to get close to the subject. Other photos illustrated how it can be unobtrusive as the subject doesn't know that the camera is there; how the camera can freeze the action in sports shots; how it can give a different perspective in landscape photos and you don't have to climb over dangerous obstacles to get the shot; how one can capture intimate details in the photo (I.e. Just the waterfall itself and not include all that sky); and how it can show patterns and abstracts in nature creating those "arty" photos. Thanks for creating this presentation, Neil, and for encouraging us to experiment with our photo equipment. We don't always remember to make the best use of the photo equipment that we have.

Our February theme shoot is macro photography so in preparation for this and to give us some suggestions for it, Alan Caithcart found some videos on this subject on the Internet. He will present these at the January photo club meeting.

Members then viewed the forty minute photo show prepared for the presentations at the senior residences in January and February. Suggestions for more details in the commentary and a few corrections were made so the show is ready to go. Albert Orban volunteered to help Darlene McCullough with the presentations in Tisdale and Glen Galloway offered to assist Anne McIntosh if she decided to make a presentation in Melfort again this year.

Alan Caithcart provided the lunch for this meeting.

Our next meeting will be held in the Doghide Gallery at seven pm on Tuesday, January 27.

Since we do not meet in December, we will take this opportunity to wish each of you a happy and healthy holiday season! Merry Christmas and Happy New Year!
Return to Ensign or Saskatchewan News
This page is a story posted on Ensign a daily web site offering a variety of material from scenic images, political commentary, information and news. Theis publications is the work of Faster Than Light Communications . If you would like to comment on this story or you wish to contact the editor of these sites please send us email.
Editor : Timothy W. Shire
Faster Than Light Communication
Box 1776, Tisdale, Saskatchewan, Canada, S0E 1T0
306 873 2004