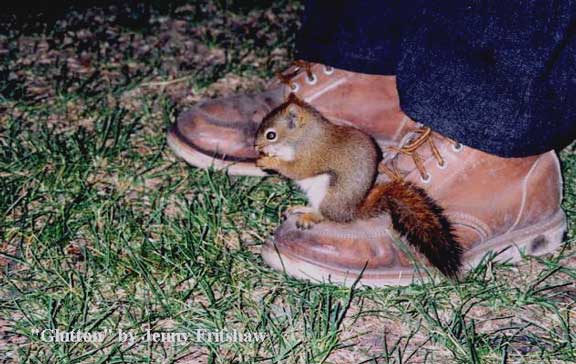 Parkland Photography Club - June, 2001
Tisdale - June 25, 2001 - by: Gerald Crawford
For many years, Parkland Photography Club has had a field trip for its June meeting, and this year was no exception. We met at Darlene's home in Tisdale about ten AM on Saturday, the 23rd, and the seven of us proceeded to Saskatoon in two cars. We stopped for a picnic lunch (in our cars, as it was raining) at Wakaw, and got to the lovely home of Louise and Ron Butterfield in Sutherland about two PM. By then, the sun was out and it was a beautiful day.
Once there, we had a brief meeting, including the results of our June Theme Shoot. The Theme was Glutton, and first went to Darlene for her photo of a huge plate of ham and eggs and chips ready to be attacked by a person wielding a knife and fork.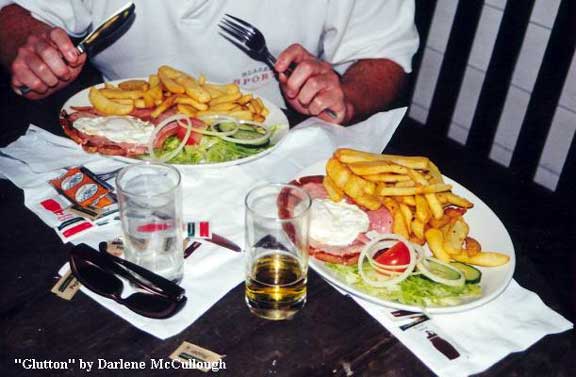 Runners-up were Jenny's photo of a squirrel sitting on someone's boot (top of page) and nibbling away at a seed, and Tibby's photo of a bride feeding her new husband a piece of cake.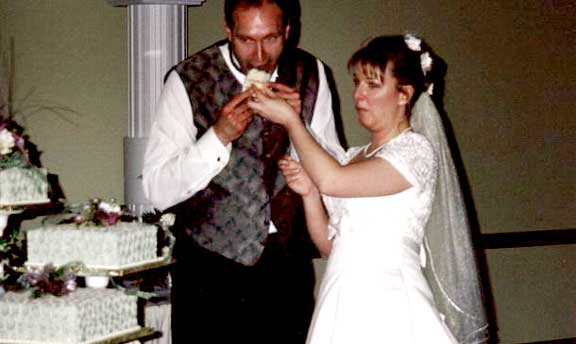 Doreen presented some Merit Awards. Wes Swan earned a Bronze (first ever for a person in his first year of membership!) and Jerry Crawford got his Gold. Merit awards are for participation in Club events, as well as outside the Club, such as judging, entering photo contests, and having photos published.
Last month, on our web page, we published Harry Bourne's photo of a dragonfly looking huge, hovering over a dugout. It was spotted by an editor from the Western Producer, who contacted Harry and paid him for the right to print the photo in the Western Producer. Harry turned the proceeds over to the Club, but Darlene says he first photocopied the cheque and framed it and the clipping from the Western Producer, titled something like "Harry's First Photography Income". Harry is currently working on a project that involves spending many hours in a blind, photographing a family of robins. We can hardly wait to see the results, Harry!
We quickly polled the members for Themes for next year, and came up with the following:
| | | | | | | | |
| --- | --- | --- | --- | --- | --- | --- | --- |
| September | Bugs | | January | Happy | | April | Wood |
| October | River | | February | Monument | | May | Toil |
| November | Touching | | March | Bridge | | June | Blues |
Photos entered in the Theme shoot are to be taken during the Club year (after the June 2001 meeting). We like to make a list of the themes and keep it in the car, since that is where we spend a lot of time.
We then went to the Saskatoon Forestry Farm for a walk through the zoo. Took lots of photos, of course, and worked up an appetite for a fantastic supper, courtesy of Louise & Ron. Then Chris Dean, for the Saskatoon Camera Club, put on two slide shows < the first by his wife, who was away, was a study on rocks from all over the world, from Stonehenge, Ayers Rock, to the Andes, and, of course, from this continent. The second was images taken in his home shire of York, in England. Both shows were thoroughly enjoyed.
Now, we take the summer off. Next meeting will be the last Tuesday in September, at the usual place.
Gerald B. Crawford
Box 100, Chelan, SK S0E 0N0
(306) 278-3423
Check out my Webpage: http://www3.sk.sympatico.ca/crawg