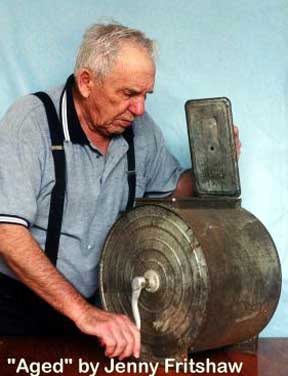 Seven members attended the February meeting of Parkland Photography Club. The business part of the meeting didn't last long, and we went on to view a promotional slide set for PRPA's annual Outing. This will take place at Birsay June 15th to 17th - actually, registration is at Hitchcock's Hideaway, 14km East and South of Birsay. The name of the Outing is "2001 - A Prairie Odyssey", and the very interesting slide show was made by Stan Hingston of the Gleneath Camera Club. The outing will include several tours and shoots.

Next was a set of 51 slides of the winning photos submitted to the various PRPA competitions. They have the Everest Trophy (slides, open), the Russell Trophy (slides depicting opposite conditions i.e. happy:sad), and the Travelling Salon. Then they have competitions for prints (as opposed to slides): the Gerry Fish Trophy, the Tony Attanyi Trophy, the Virginia Hampson Trophy for Sports in Action, and the Saskatoon Camera Club Trophy for Human Portraiture. There is also a competition, the W. C. Lovett Trophy, for slide shows under ten minutes. Beautiful work, all of it.

Our own little competition, the Theme Shoot, had five entries, and the theme was "Aged". Tied for first place were: Jenny Fritshaw's photo of an elderly gentleman checking out an old hand churn, and Wesley Swan's slide (seen at the top of this page) of his parents' old original log house, long abandoned. Runners-up were Mary Wright's photo of a bottle of T.U.C.S. wine marked "Class of '73", and Tibby Frazer's of an old couple, all dressed up and guarding a theme park. On closer inspection, they turn out to be dummies. Thanks to Mary Wright for a fantastic lunch!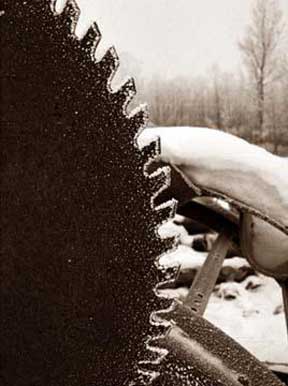 The main event of the evening was a critique of the new Parkland Print Display photos, conducted by Malcolm Salmond. He went over each photo, discussing what he liked, and what might improve, each one. Altogether, a very interesting evening.

Next Club activity will be manning our booth, and taking photos, at the Doghide River Festival, March 24th and 25th. Our next meeting will be March 27th, at 7 pm, and the Theme will be "Warped". That one shouldn't be too hard.