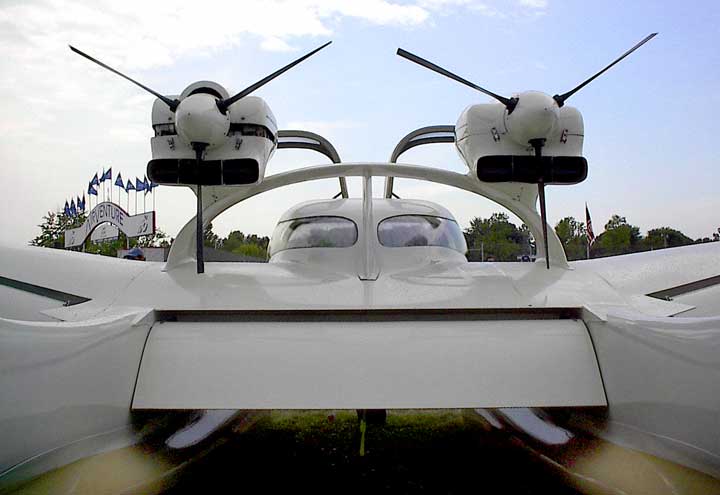 Images by: Andrew and Timothy Shire
Aerocat
FTLComm - Oshkosh, Wisconsin - Wednesday, September 24, 2003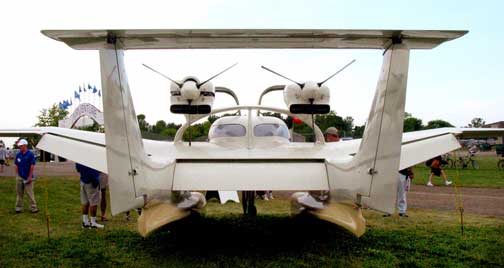 We begin this story with the picture at the top of this page that simply looks like something out of a science fiction movie or a futuristic animation.

The skies were dark and a few drops of rain falling as we came upon this aircraft at the very edge of the very edge of Oshkosh AirVenture 2003 grounds.

With its passenger pod, booms, bent wings, engines on a wing and gull wing doors this is not like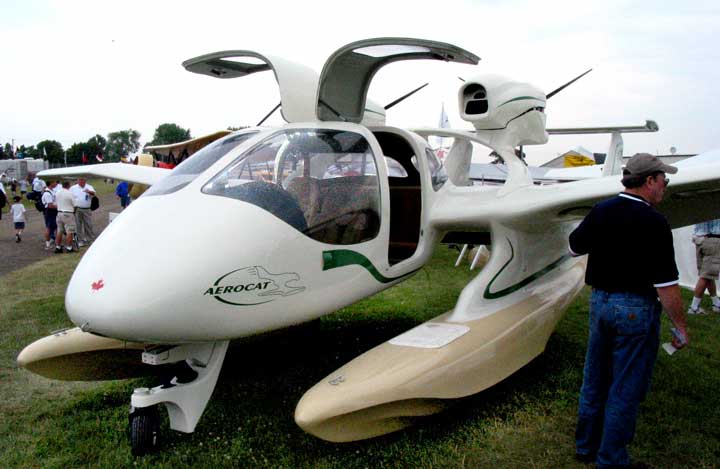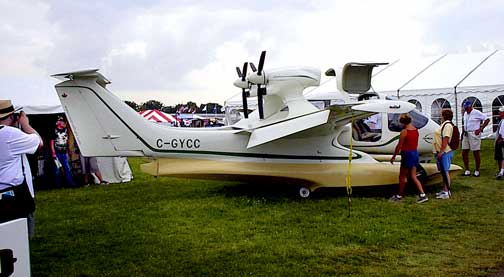 any other airplane I have seen even making Burt Rutan designs look a little conventional. Though it looks bigger it is still close to a Cessna 182 with its 34 foot wing span and an over all length of 27 feet. But what makes you shake your head is the room inside the cabin. It is 57 inches wide and 46 inches high. It will hold 410 pounds of fuel which amounts to 68 US gallons (20 less than a 182) but with its floats on it cruises at a flight plan speed of 150 mph (also what you normally figure for a 182) which will carry you and about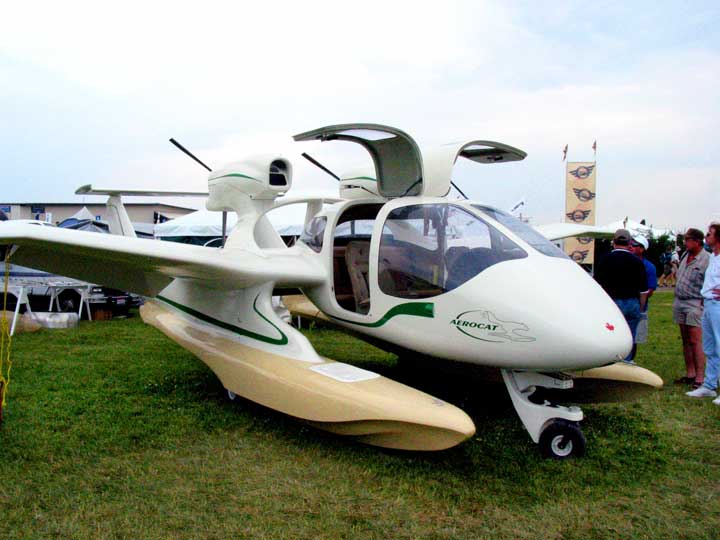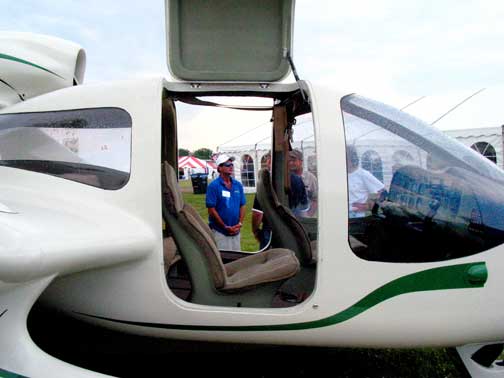 300 pounds of passengers or freight (assuming you weigh 200 pounds) about 900 statute miles. That means you will need to stop for fuel on a flight from Regina to Vancouver harbour, if you plan to get there with 45 minutes of reserve fuel in your tanks.

The landing gear is air bag and the mains extend down through the catamaran floats which are attached to the booms with four bolts each and it takes a couple of people 45 minutes to make the transition

As you look through its doors at sales representative Terrance Gavan you can see the slick but simple design of the passenger compartment. With the engines mounted aft and the composite construction that should be a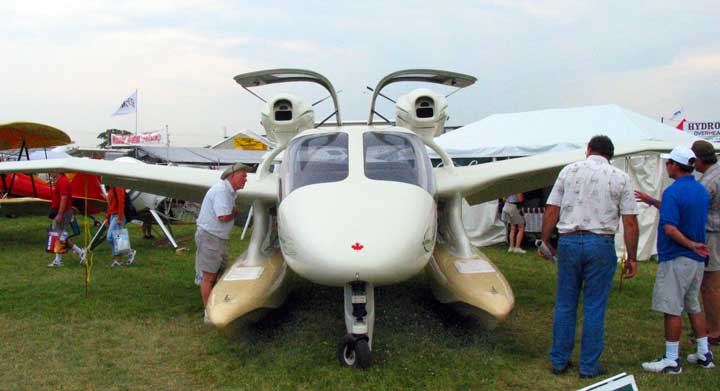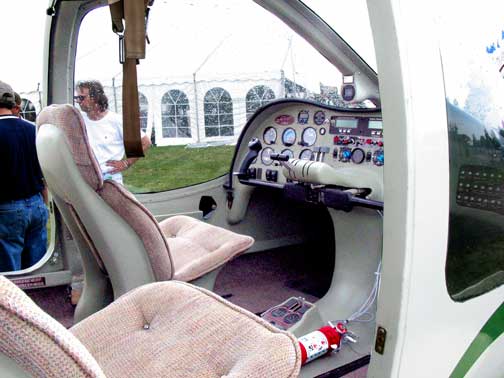 a quiet ride.

Terrance explained that for this demonstration prototype they fitted it out with a simple but practical instrument panel which adds about $8,000 US to the cost of the machine.

The designer is Kirk Creelman and work continues on tweaking the design with a modest change to its "power arch" ( the carbon fibre hoop that serves as the engine mounts) but the pricing has been set for kits. Fitted out like the one in these pictures the kit, including the two Australian made six cylinder 120hp Jabiru engines is about $177,000 Canadian. Then you have to put it together.

One version of the plane is a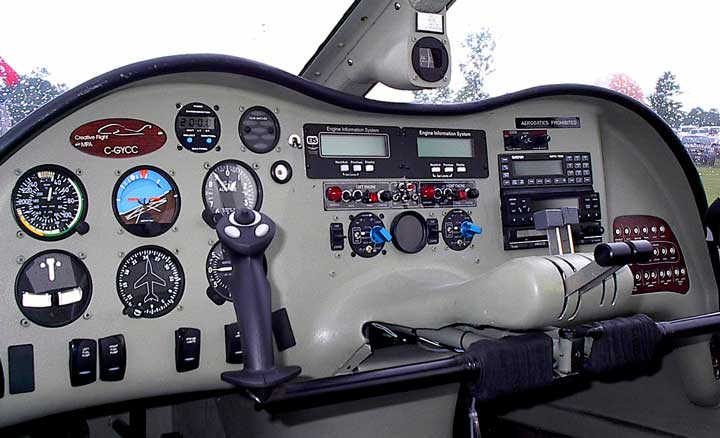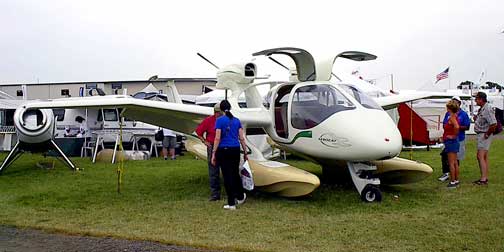 single engine 210hp Lycoming with about the same performance but lower maintenance because of the single engine. However, that version is more money.

There are some very cool features to this plane besides its versatility and weird appearance. The MT propellers are programmable and do the job of synchronizing the two engines. This wing and flight configuration is remarkably pilot friendly and the transition from flight to falling object (stall speed) is 50 mph.

Creative Flight has an excellent web site with some QuickTime movies of the Aerocat departing and landing on land and water. The Canadian production facility is at Haliburton, Ontario (877 428-6474) or e-mail Terrance Gavan.
test by: Timothy W. Shire
images by: Andrew Shire
---
Return to Ensign - Return to Saskatchewan News
This page is a story posted on Ensign and/or Saskatchewan News, both of which are daily web sites offering a variety of material from scenic images, political commentary, information and news. These publications are the work of Faster Than Light Communications . If you would like to comment on this story or you wish to contact the editor of these sites please send us email.
Editor : Timothy W. Shire
Faster Than Light Communication
Box 1776, Tisdale, Saskatchewan, Canada, S0E 1T0
306 873 2004