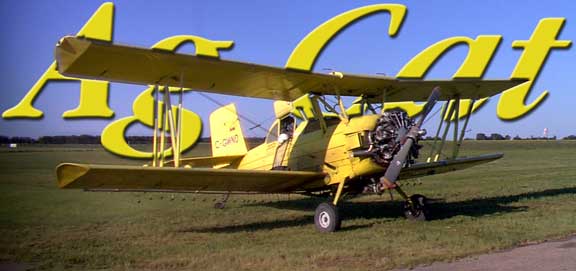 FTLComm - Tisdale - July 13, 2000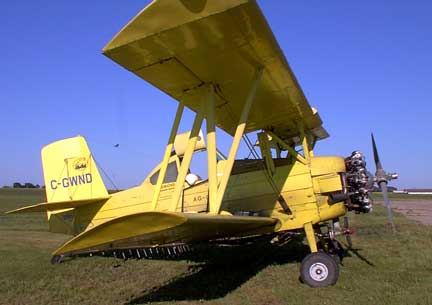 The heavy metal of agricultural aviation are the Aryes Thrush and this the Ag-Cat. Originally designed and developed by military aviation contractor Grumman and built beginning in 1969 under license by glider designer Schweizer Aircraft of Elmira New York. The AG-Cat design was purchased by Schweizer from Grumman then in 1995 the rights were sold to AG-Cat Corporation of Malden Missouri.

This is an outstanding design built to the kind of utilitarian and rough use standards Grumman put into its military hardware which earned the company the nick name of being the Grumman Iron Works. All told in
its various forms and building licenses there have been more than five thousand of these machines churned out in the United States as well as those built in Ethiopia, making it one of the most successful agricultural aircrafts ever built.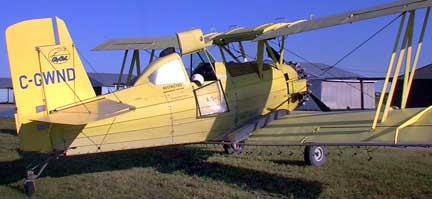 They have been fitted through the years with a wide range of engines but the most common version is like this one with a 450HP Pratt and Whitney. The current models coming off the assembly line are mostly being built with Pratt and Whitney Canada PT-6 turbines.

If the airplane looks a little primative that is because it really and truly is. The wings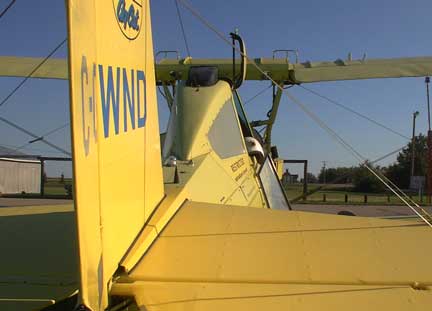 on this bird are made from aluminum alloy but the skin is old fashioin conventional fabric and dope, not unlike a world war I fighter or machine from the 1930s. The battle and crash ready fuselage is made of steel tubing covered with aluminum sheeting. The two wings on each side are interchangeable, which keeps the cost down on construction.

The hopper on the Ag-Cat will handle a ton of chemical and has a stall speed of 67mph. Though it looks stubby, its wing span is only three feet less than the Piper Brave spray plane at thirty-five feet.

Biplane performance is one of the reasons pilots like the machine and one other interesting legend and that is that is that no spray pilot has been killed flying one of these machines.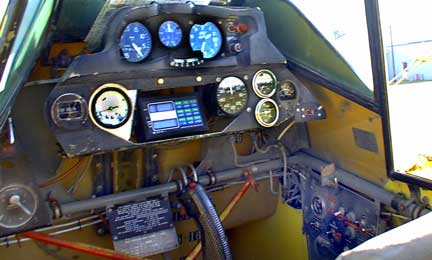 In this picture we get a peek inside the Ag-Cat office which seems as spartan as most machines of its type.

The Ag-Cat can deliver product to the field about twenty mph slower then the forty-four foot wing spanned Aryes Thrush and needs to be refuelled much more often with a range of only 172 miles.

This machine is based in the Spalding area and was photographed this morning at the Tisdale airport.

The second pilot to die this summer while spraying near Rosetown drown in a dug out when his aircraft clipped a fence and flipped over into the only body of water around for miles.