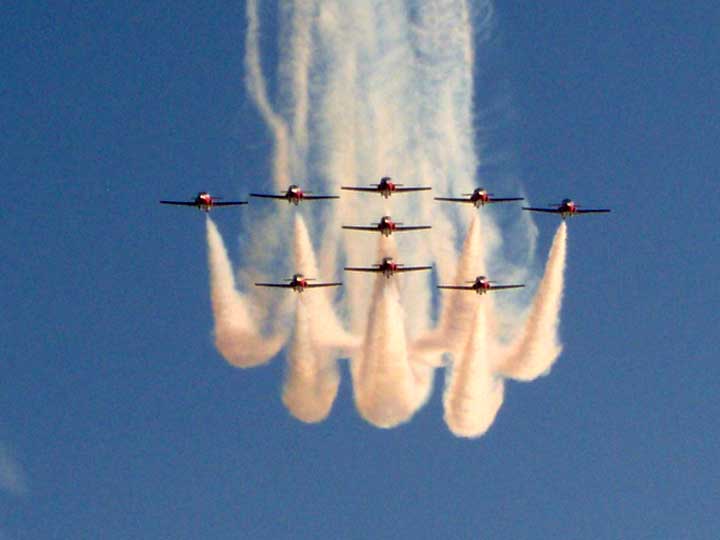 Wings over White Rock
White Rock B.C. - Friday, August 15, 2008 by: Brian Marlatt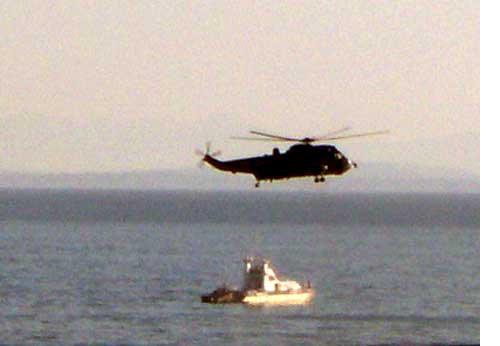 Editor's note: This passed weekend was the Abbotsford Åir Show is on, so it is an excellent time to show you some highlights from the July 30th Wings over White Rock show which had been held as a fund raiser for the C.H.I.L.D. Foundation. (Children with Intestinal and Liver Disorder)

With the exception of the first and last pictures on this page these are roll over images. To see the second image move your mouse over the shown picture and the second one will appear.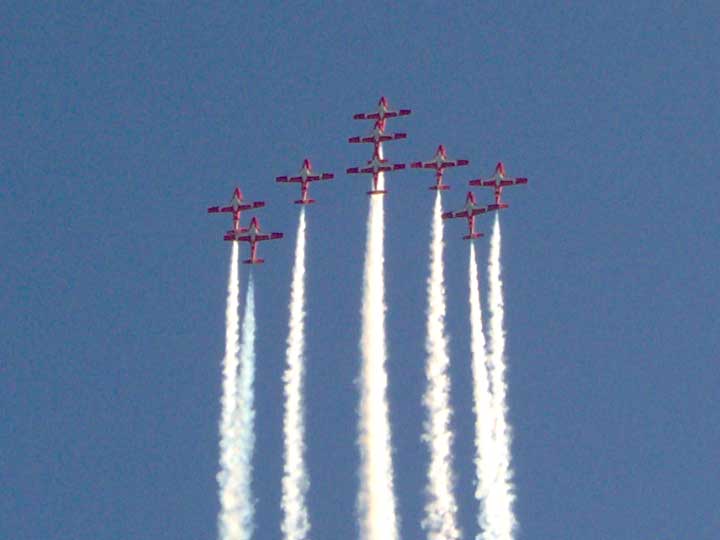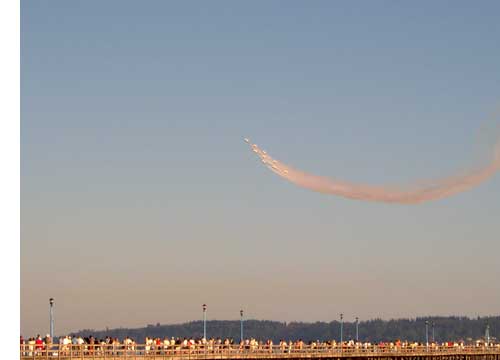 The Snowbirds flew for CH.I.L.D., a foundation dedicated to medical research in aid of Children with Intestinal and Liver Disorder, again this year over White Rock, BC and Semiahmoo Bay on Canada's Pacific coast.

A $12-million dollar grant from the Province of BC announced May 8th 2008, will help support ground-breaking research to help find a cure for Children with Intestinal and Liver Disorders such as Crohn's Disease and Ulcerative Colitis, disabilitating childhood diseases which can lead to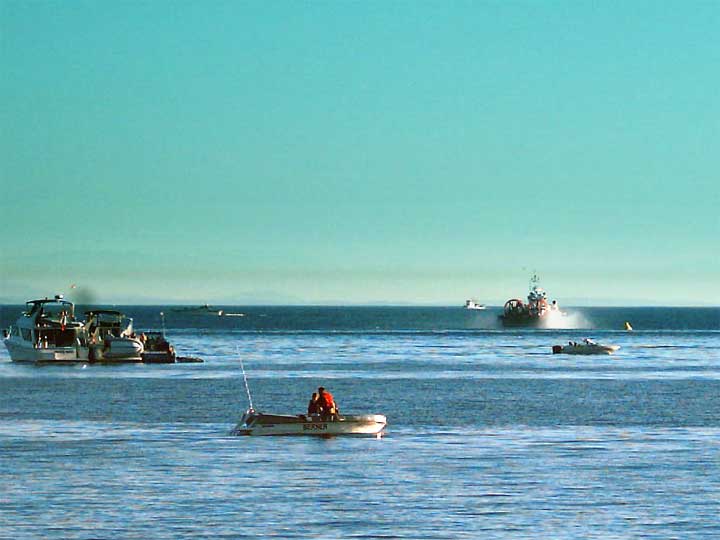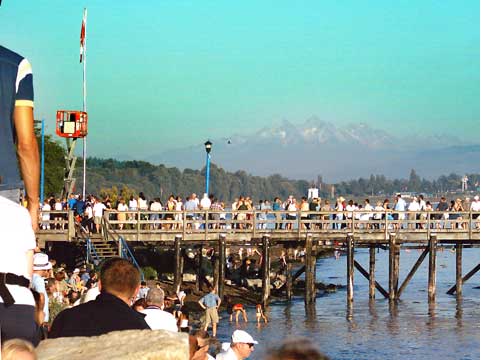 lifelong suffering into adulthood or even childhood death. Your contribution is greatly appreciated.
The Canadian Forces Snowbirds, No. 431 Air Demonstration Squadron, are joined by the local community paper, The Peace Arch News, and their owner, the Victoria based Black Press, BOMBARDIER, THE BOATHOUSE RESTAURANTS, Best Tax Accountants and SANMAR CANADA for an evening programme which began at 5:30 p.m. July 30th at the Pier on the White Rock Beach to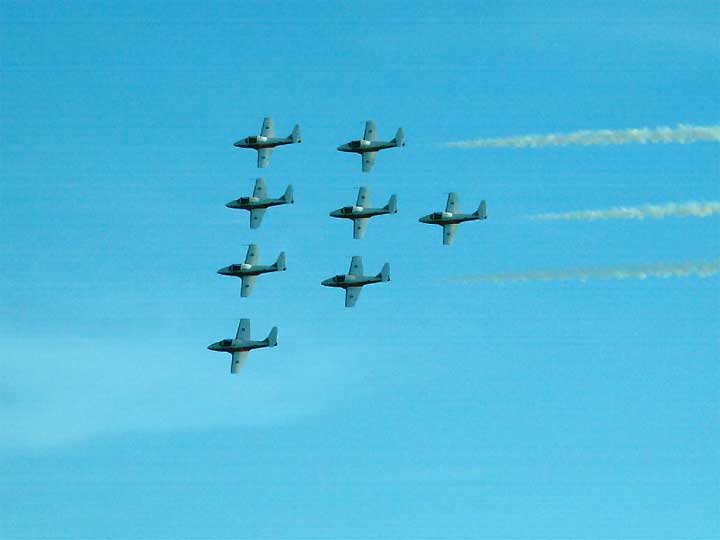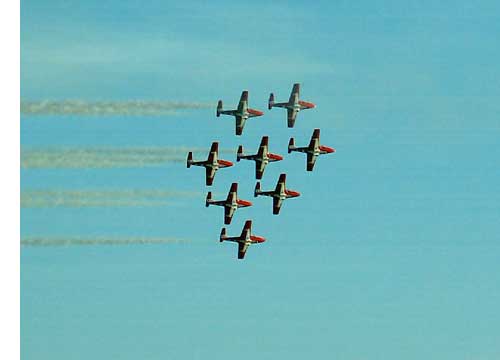 raise funds and awareness of this critical issue in the lives of suffering children and their families.
The Snowbirds first performed in aid of CH.I.L.D. over White Rock in 2004. In attendance were members of the R.C.M.P. in formal red serge and Smokey Smith, Private Ernest Alia Smith of the Seaforth Highlanders of Canada, last Canadian surviving recipient 'For Valour' of the original Victoria Cross.
The Snowbirds were supported by members of the Canadian Coast Guard, whose Hovercraft and Zodiac rescue teams were greatly appreciated.

Among the 431 Sqn., Snowbird, pilots participating in 2004 was Captain Miles Selby of Tsawwassen and New Westminster, BC who was later to perish in a tragic mid-air collision. Contributions to CH.I.L.D. will honour his memory.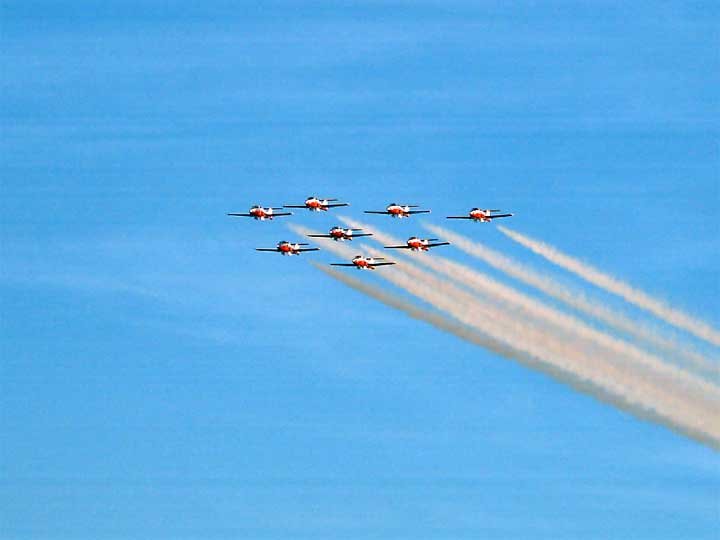 ---
Return to Ensign or Saskatchewan News
This page is a story posted on Ensign, a daily web site offering a variety of material from scenic images, political commentary, information and news. This publication is the work of Faster Than Light Communications . If you would like to comment on this story or you wish to contact the editor of these sites please send us email.
Editor : Timothy W. Shire
Faster Than Light Communication
Box 1776, Tisdale, Saskatchewan, Canada, S0E 1T0
306 873 2004