Saskatchewan Air Ambulance service currently operates two King Air 200 aircraft and a Piper Cheyenne. This weekend has been a busy one. Usually Saturday is when the aircraft get washed off but as you can see above from the exhaust smoke (above) that didn't happen today. This aircraft was in Minniapolis yesterday and today to Ilse La Cross, Sandy Bay and one other point while its sister ship was similarly all over Saskatchewan including a flight into and out of Melfort today.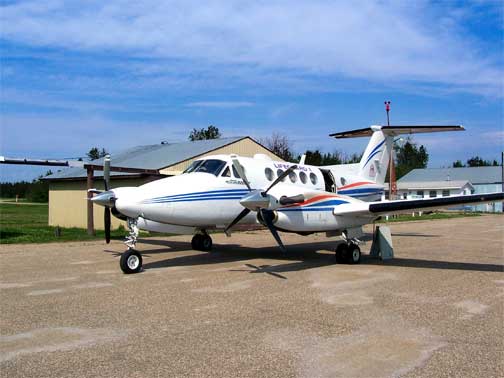 With the work load on these aircraft the government is adding two more King Air 200s to its fleet which operate twenty-four hours a day every day of the year moving patients to major centres.
Each aircraft (the King Air 200 machines cost more than $5,000,000 each) operate with a crew of one pilot, a paramedic and a nurse.
These aircraft have cruise speeds of 292Knots and a service ceiling of 35,000ft. operating with an effective range of 1,530 nautical miles with crew and patient . The two Pratt and Whitney Canadian PT6A-42 engines develop 850 shaft horse power at 2,100 rpms. To handle the rigours of the variety of strips in Saskatchewan the King Air aircraft have larger more rugged landing gear.
This particular aircraft when it was only a few weeks into its service here in Saskatchewan was badly damaged when a bunch of deer scattered in front of the plane as it was landing at La Ronge, one of the animals struck the port engine.