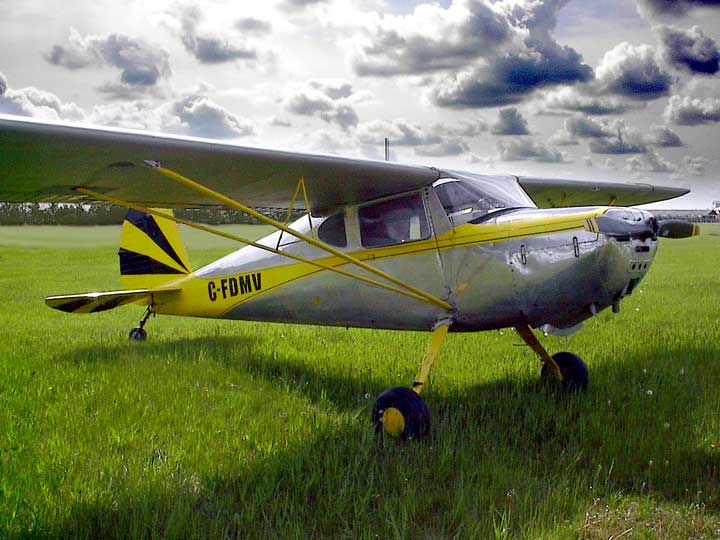 Cessna 140: the beginning
FTLComm - Tisdale - Thursday, June 12, 2003
Born in Iowa and moved to Kansas, Clyde Cessna was one of those people who was mechanically gifted and established himself as a mechanic who went from fixing cars to selling Overland cars developing business skills. He worked briefly at the Queen Aeroplane Company in New York, long enough to get the idea. He built his first aircraft in 1911 as a copy of the Bleriot XI which he called the "Silverwing" and through simple crash and recrash process taught himself to fly the thing. He was the first American to accomplish powered flight West of the Mississippi when he finally made a successful take off and and landing with five mile flight at Enid Oklahoma in December of 1911.

He moved his family to Kansas in 1913 and got involved in exhibition flying. It was ten years since the Wright brothers did it the first time and by then technology was moving along. But let's face it aviation had a long way to go as Clyde pulled his monoplane on a trailer from one exhibition to another.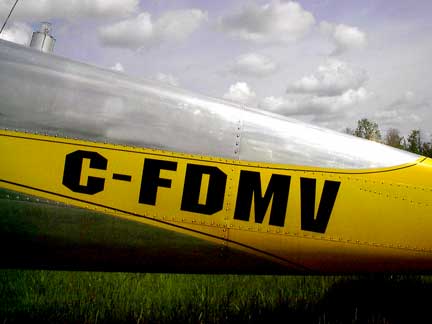 I he built four monoplanes and began teaching people to fly but with the war in April of 1917 he went back to farming. He kept flying and had two Laird "Swallow" biplanes during the early 20s and taught his nephew, Dwane Wallace to fly.

In 1924 Lloyd Stearman and Walter Beech came to him and brought him into their new Travel Air Manufacturing company. His good business sense and skill was an asset and he was made president of the company. But after getting that company on a positive direction he left them in 1927 to build his "Phantom" monoplane under the name of Cessna Aircraft Company. His son Eldon and others in the company produce the outstanding four to six place AW series with is sleek cantilever wing. With the stock market crash they shut down and in 1934 Dwane Wallace now a real engineer left Beech and got his uncle Clyde and cousin Eldon back in the airplane business turning out the C-34. Powered by radial engine this was the ultimate light aircraft of its time.

World War II came along and civilian production stopped and the company built 5,000 military aircraft including Canadian flown Cessna Cranes.

The skilled manufacturing work force and experience with the war aircraft development allowed the company to take what they had done and put it all together. What they made was the Cessna 120 a nifty little high wing that was an immediate hit. But the 120 soon was replaced by a larger and better 140 in 1946 all other Cessna single engine aircraft are based on this remarkable design. They also turned out the 190/195 five passenger machine but it was much more expensive and the design of the simple but nimble 140 was the key to success.
maker

designation

name

number registered
in Canada

Bellanca

all models

297

Cessna

120

78

Cessna

140

201

Cessna

150

Commuter / Areobat

1236

Cessna

152

Aerobat

209

Cessna

170

287

Cessna

172

Skyhawk

2334

Cessna

175

Skylark

76

Cessna

177

Cardinal

177

Cessna

180

Skywagon

671

Cessna

182

Skylane

545

Cessna

185

Skywagon

61

Cessna

195

Airmaster

14

Cessna

206

Stationair 6

14

Cessna

207

Stationair 7

17

Cessna

208

Stationair 8

86

Cessna

210

Centurion

93

Cessna

310

76

Cessna

336

Skymaster

3

Cessna

337

Skymaster

77

Champion

all models

288

Grumman American

all models

235

Mooney

all models

258

Piper

J-3

Cub

310

Piper

PA 12

Cruiser

221

Piper

PA 18

Super Cub

400

Piper

PA 20

Pacer

70

Piper

PA 22

Tri-Pacer

360

Piper

PA 28

Cherokee

1200

Rockwell

112

Commander

1

Rockwell

114

12

Stintson

all models

308

Taylorcraft

all models

257

It was largely the design work of Dwane Wallace and his vision that produced the aircraft that is the world's most popular flying machine of all time the Cessna 172.

The Cessna 140 is a modern monocoup aluminum fuselage with either an 85 hp or 90 hp Continental engine. It had fabric wings on the 85hp version and metal skin on the 90hp plane. The metal winged version had a single strut rather than the two seen on this example (serial number 10815).
The 120 and 140s went out of production in 1950 and it wasn't until 1958 when the new and improved version, the 150 was introduced with its tricycle gear.

In 1948 Cessna upsized the 140 into a truly great aircraft, the 170 with 145hp and room for four people and luggage. Only the 1948 model had fabric wings from 1949 they were all metal.

The problem of handling different speeds and giving the pilot control of the aircraft through its range from 52mph to above a hundred is a challenge and the Cessna solution is its wing design with a high angle of attack at the wing root and tapering out to almost no angle at the wing tip. Ultimately every pilot wants to avoid making holes in the ground.

The 140 evolved into the 170, which became the tricycle 172 which grew into the larger and more powerful 182, the 180 and 185 are tail dragging narrow aircraft more closely related to the 170. The 182 grew into the retractable 210 and the utility 206, 207 and 208.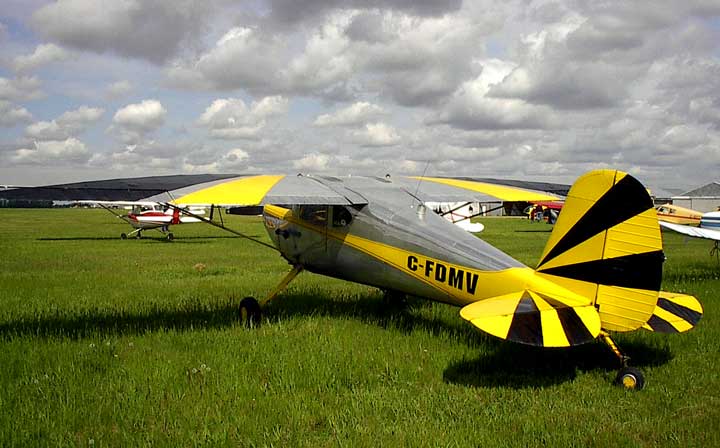 The 175 Skylark is just a variant of the 172 has a geared prop and the 177 is almost a thing of its own with design elements from the 195 and 172 only a low profile and wide body. Though Cessna created a legacy of twin engined aircraft the 336/337 Skymaster with its pull and push engines is in the same lineage as the single engine aircraft owing its success to the high wing controlled flight characteristics that trace back to the 140.

My apologies to the Aeronca lovers I missed including them in the list of planes registered in Canada as of today but the list shows the impact of successful aircraft on what is flown and what people will continue to fly. There are 6,179 Cessnas in that list (not counting the 310 which is related to the W.W.II twins) all based on the design that came together in the 140. Mr. Taylor's design accounts for all the J-3, PA 18s and Taylorcraft in that list. One way or another the standards of safety and economy were set by the Taylor and Cessna designs.

Speaking of economy a Cessna 140 made during its four years of production carries its pilot and passenger along at a hundred miles an hour for just over four hours using about five gallons an hour. It lands at 53 miles an hour and can come to a stop in less than five hundred feet and get into the air in the length of two football fields (650 ft).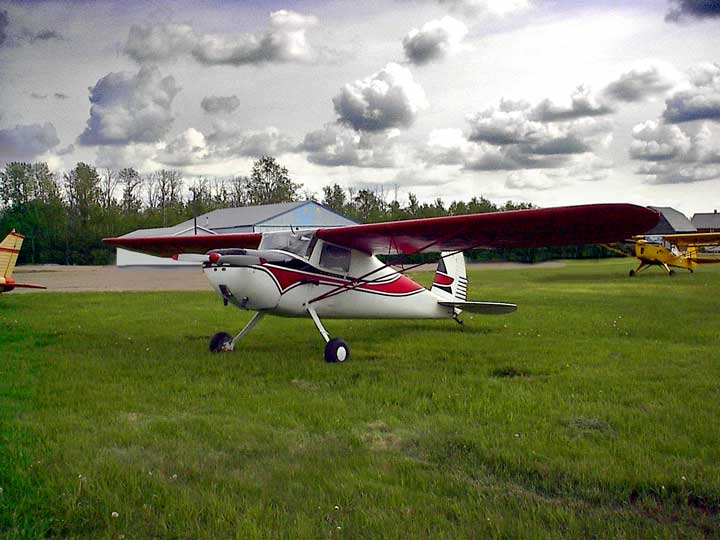 References:
Aviation Profiles, Clyde Vernon Cessna, (visited web site June 12, 2003) Wings over Kansas
Phillips, Edward H., Clyde Cessna - Pioneer Aviator, (visited web site June 12, 2003) Aviation Profiles, Wings over Kansas
Phillips, Edward H., Dwane L. Wallace - - Kansas Visionary, (visited web site June 12, 2003) Aviation Profiles, Wings over Kansas
Cessna 140.com This is an exceptional owner club web site with hundreds of pictures and stories of Cessna 140s.
International Cessna 120 - 140 Association web site (visited web site June 12, 2003)
Cessna 140 N76256 Home Page This is a great personal web site page and tribute to the owner's flying machine.(visited web site June 12, 2003)
1946 Cessna 140 $15,000 (US) (visited web site June 12, 2003)
---
Return to Ensign - Return to Saskatchewan News
This page is a story posted on Ensign and/or Saskatchewan News, both of which are daily web sites offering a variety of material from scenic images, political commentary, information and news. These publications are the work of Faster Than Light Communications . If you would like to comment on this story or you wish to contact the editor of these sites please send us email.
Editor : Timothy W. Shire
Faster Than Light Communication
Box 1776, Tisdale, Saskatchewan, Canada, S0E 1T0
306 873 2004