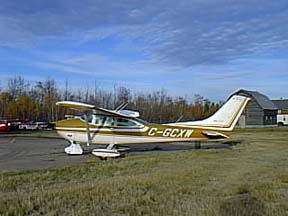 Cessna 182
FTLComm - Tisdale - October 8, 1998

After a full decade of being out of production the Cessna 182 and its little sister the 172 are now back in production. Makers of general aviation aircraft, Piper, Cessna, Mooney and Beechcraft were being sued to the point where the liability insurance on each new aircraft was reaching the point of being equal to the cost of production. The US government enacted legislation to restrict this form of litigation and manufacturers have been creeping back into producing general aviation aircraft.

But the supply of aircrafts has continued to decline and the valued of used aircrafts continues to rise. In 1991 a Cessna 182 like this one sold for about $38,000 today a similar machine is advertised at $62,500 US .
With its 260 horse power six cylinder Continental engine, the 182 can carry four people, their luggage and its full 88 US gallons of fuel aloft for more then five hours travelling at 150 miles per hour. It has a gross weight of 2500 lbs. and empty weighs 1,338 lbs. The aircrafts relatively high wing loading makes it a stable instrument platform aircraft and its landing gear will handle some pretty nasty landings.

Though not the fastest nor the most economical the Cessna 182 is one of the roomiest civil aviation aircrafts and remains popular as the midrange favourite. This particular example is pretty much standard equipped and that includes dual radios and VOR, an ADF, Cessna auto-pilot and a GPS.

This picture of a 182 is a QuickTime VR object, once the image has completely downloaded you can turn the image around allowing you to see it from all directions. This image is created with over forty exposures compiled to give you this controllable image.

This 1974 Cessna 182P is owned by John Cook of Birch Hills