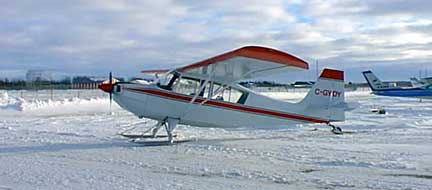 Replacing the wheels with skies on a light aircraft is a very cool process and has some added capabilities to being able to use that aircraft on lakes and fields in winter.

Though there were ski kits for tricycle geared aircraft like the Cessna 172 these set ups are very uncommon but on neat aircraft like this Champion with conventional tail dragger gear the ski set up is outstanding.

For more about the Champ check out the article done on one in July of 99.