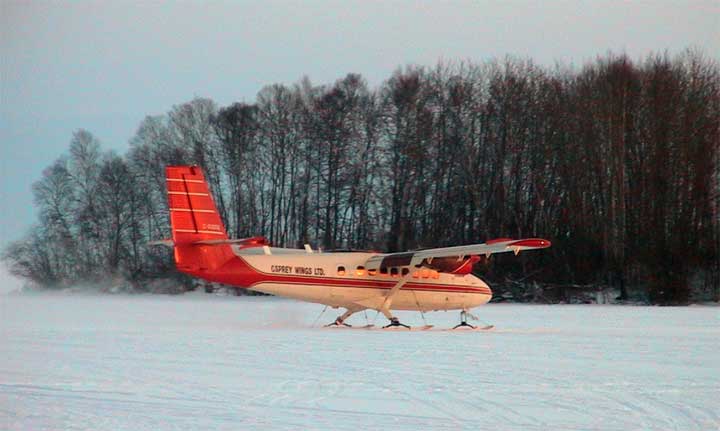 de Havilland DHC-6 Twin Otter
FTLComm - la Ronge- Thursday, January 26, 2006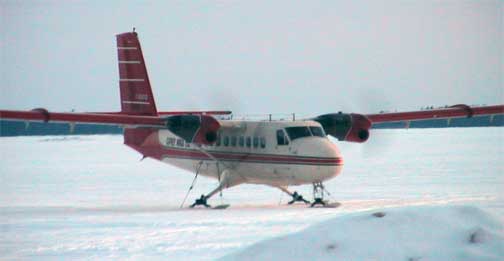 I remember when CBC news showed a clip of the new Canadian developed aircraft the turbo propped "Twin Otter". I thought it was laughable that a "modern" aircraft would be designed with non-retractable gear, but forty-one years later, the goofy looking machine, with its wing strutts and gear nakedly hanging out, is still doing what no other aircraft can do as well.
In January 1964 Canadian de Havilland began work on converting the rugged single engine airframe of the radial powered Otter into a new aircraft that could utilise the Montreal developed Pratt & Whitney PT-6 turbine. This clever engine was simpler and promised longer life than other small turbines in use without the hot and compressor sections connected on a single shaft. The resulting engine can have parts of it overhauled separately.
The first prototype was finished in November and began its flight testing May 20, 1965. The first version "100" series had a short nose. The one in these pictures is a 1968 "200" series with the serial number 155. The Twin Otter was certified in mid 1968 with the first ones going to the government of Ontario.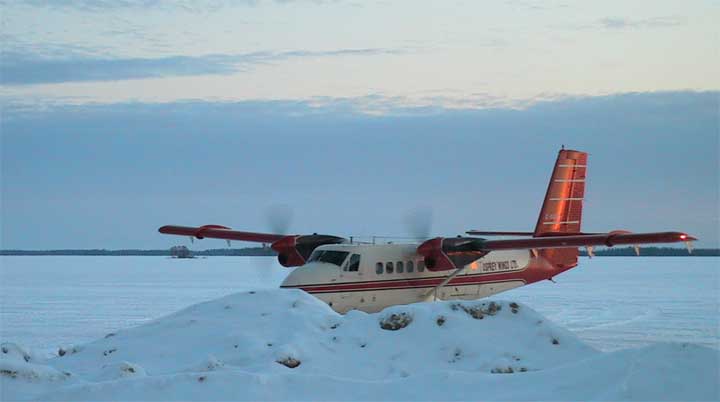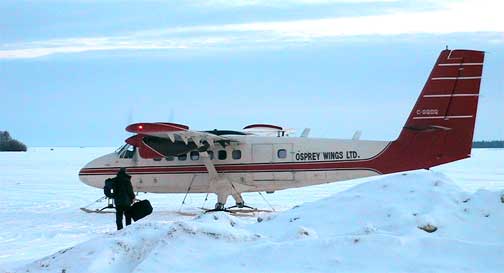 de Havilland had intended the market for this plane to be a commuter feeder airliner with a capacity to carry twenty passengers and have a range of just over 700 nautical miles and would cruise along at a conservative 160 knots.
As a passenger aircraft with all the seats full it was not my preferred ride. On a "TimeAir" flight into Peace River and riding with a load of oil rig guys near the back, that rudder produces a sickening side movement in the pattern.
The first time I looked one over was in 1970 or 71 when the RCMP had one in their hanger in Regina and I can remember the amazement of that tiny engine with a gear box nearly as large.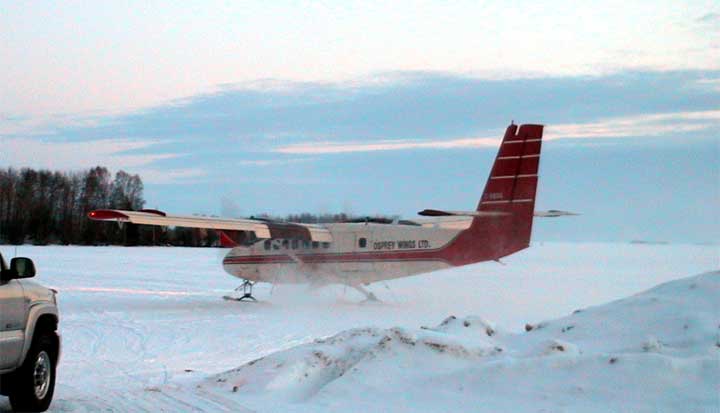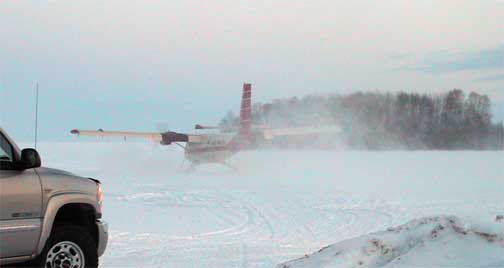 Like the single Otter the aircraft is truly a tough bird and most spend their summers on floats and winters on skiis. Freight passengers and all of the above are packed in and hustled off to places that can only be reached by such a flying machine. It is common to see one chugging out from a dock with all manner of things strapped to the floats then miraculously jump into the air with the help of some pretty tricky wings and flap arrangements. The "100" series can even use the horizontal stabiliser to give it extra lift in a STOL situation.
Everyone who lives in northern Canada has a least one Twin Otter story. My favourite is an engineer who worked on my 172 had lost his job at la Ronge after taxiing one from one dock to another an failed to cool it down before shut down requiring the replacement of the hot section on both engines.
But all in all the Twin Otter is a great performer, I have never been in one on skiis and have avoided the experience deliberately on floats; (I don't think God intended for humans to make planes that land on water) but on wheels with a full hockey team from Watson Lake to Whitehorse in the dead of winter for a tournament was truly exceptional. Well except for that waggly tail and one defenseman and a forward with very sensitive stomachs, but they did the same on buses.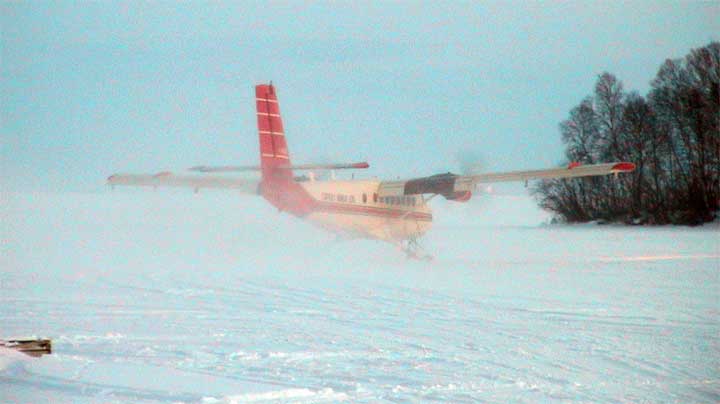 For every northerner the Twin Otter is a sainted aircraft but it was in April of 2001 that two Twin Otters from Kenn Borek Air in Calgary caught the world's attention by flying to rescue a sick American doctor, Ron Shermenski from deep in the Antarctic at Amundsen-Scott South Pole Station. Pilot Sean Loutitt took one aircraft in with the other as back up in what is considered a truly remarkable rescue mission.
---
Return to Ensign - Return to Saskatchewan News
This page is a story posted on Ensign and/or Saskatchewan News, both of which are daily web sites offering a variety of material from scenic images, political commentary, information and news. These publications are the work of Faster Than Light Communications . If you would like to comment on this story or you wish to contact the editor of these sites please send us email.
Editor : Timothy W. Shire
Faster Than Light Communication
Box 1776, Tisdale, Saskatchewan, Canada, S0E 1T0
306 873 2004