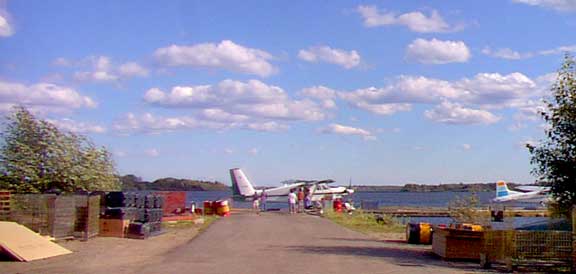 Shorebirds
FTLComm - la Ronge - Wednesday, July 31, 2002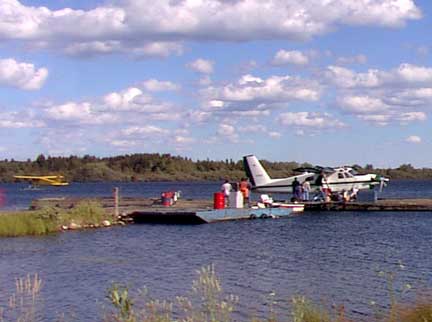 Tuesday late afternoon and an expedition of seven people and their gear were loading into a DeHavilland Turbo-Beaver in la Ronge. With their supplies being stored on board the float equipped aircraft would be close to its gross take off weight of 5,370 pounds with six passengers and its pilot.

The Turbo-Beaver replaced the convention radial piston powered Beaver which first went into production in 1948 and a yellow one is taxiing out from the dock for departure. The PT-6 578 hp Mark III first went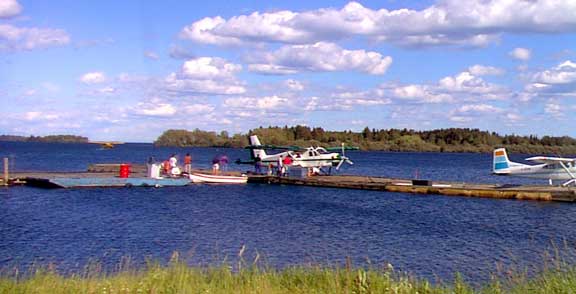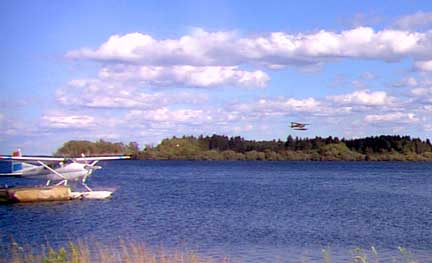 into service in 1964. On wheels a Turbo-Beaver can handle nine people and with full fuel has a range of 677 miles with a cruise speed of 157 mph. For such a large aircraft, like the older piston powered machine seen lifting off here, both make the transistion from aircraft to boat at 60 mph.

The aircraft tied to the dock is a Cessna 185, one of the toughest but most cramped bush planes made. (Inside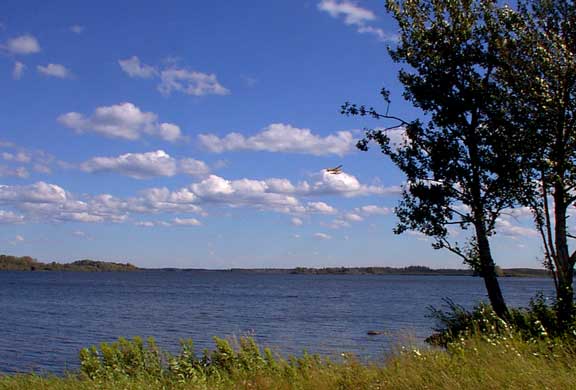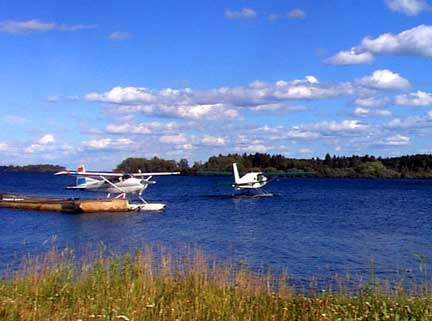 width a mere 42 inches).

With everyone strapped in the Turbo-Beaver edges from the dock with its floats almost level with the water's surface. Though the Beaver is a great aircraft it is a rather bad submarine.

La Ronge is a popular launch point for fishing trips to the many Northern Saskatchewan lodges and fabulous lakes that make this province renown as a fisherman's paradise.

The parking lot at this float base had vehicles with license plates from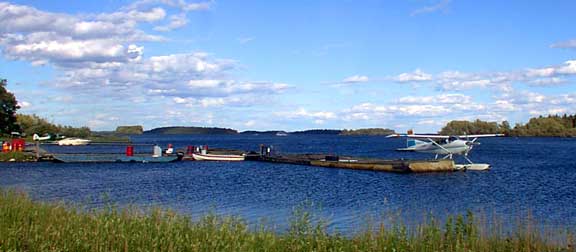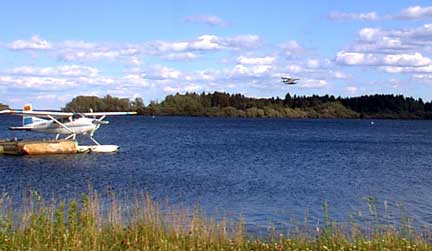 Manitoba, Alberta, South Dakota and Colorado.

Besides the tourists this float base provides year round support to people who live, hunt and trap in the Northern wilderness.

La Ronge has main offices for several of Northern Saskatchewan's mining operations who are also supported by this busy communiity two hours North of Prince Albert.