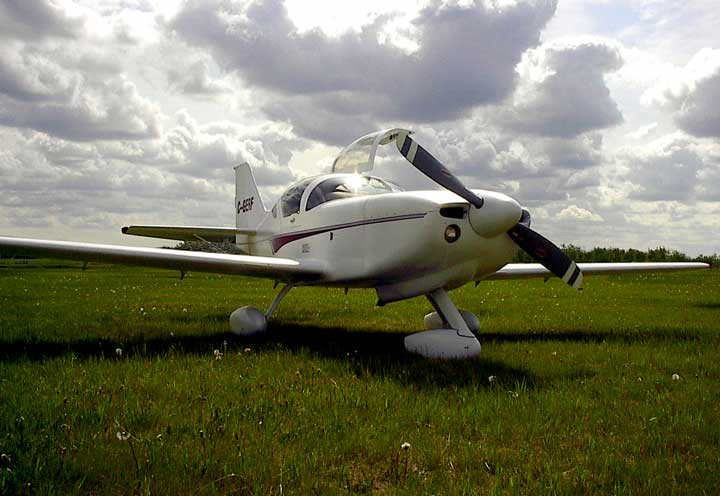 Glasair - SH-2F
FTLComm - Tisdale - Tuesday, June 17, 2003

This outstanding aircraft was built here in Saskatchewan by Gary Brandt from Saskatoon and finished in 1999. It is licensed in Canada as an "amateur built" aircraft and that involves some pretty stringent regulations. Separate from"experimental" of which there are only ten single engine examples registered in Canada, the "amateur built" aircraft are designed and most of its components built in a certified factory and the builder assembles and constructs the aircraft from a kit. There are 2,599 such registered aircraft in Canada, an amazing 11% of all Canadian single engine aeroplanes.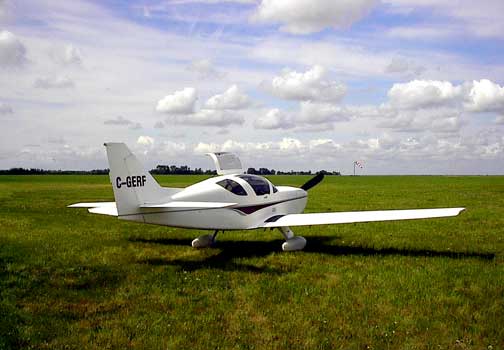 Kit or no kit setting about building a flying machine is a major task and perhaps as many as one in ten builders who begin projects finish them. But this in not especially hard to understand because flight is one of those things that captures the imagination and leads sane people to move toward the certifiable. Clearly, though twenty six hundred Canadians fly aircraft they have built themselves or in some cases purchased finished machines built by amateur builders.

Glasair is one of the most successful kit design companies and has gone broke at least once. It produces three versions of this aircraft and a high wing called "Glastar". This example is a fixed gear version while the most recent Glasair III is a standard retractable gear version and there are tail-dragger versions.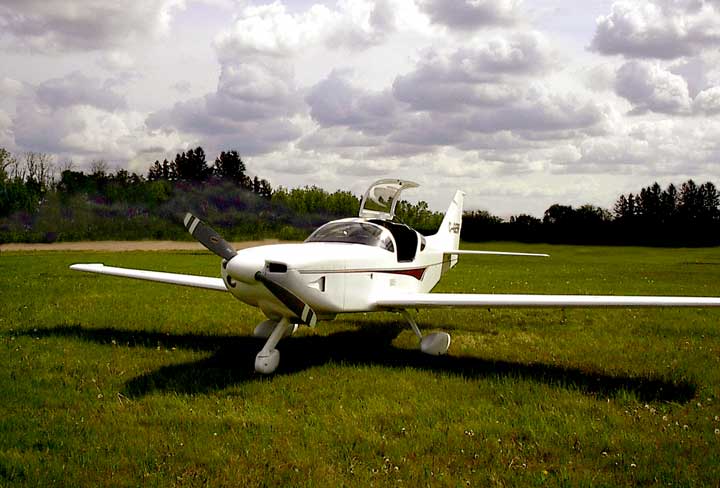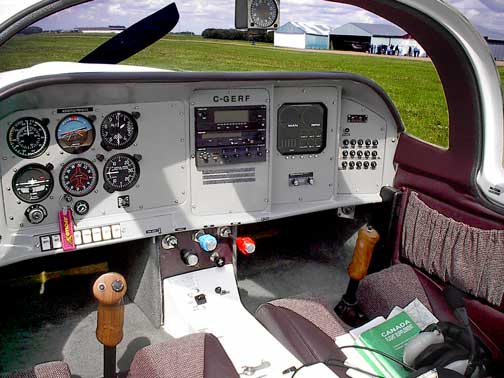 The Glasair is capable of performance unmatched by any commercially produced aircraft. Most are powered with Lycoming engines from 180 to 300 horse power and all versions can whistle along at 200mph. They are made of fibre glass and assembled almost like a model but even though the kits are complete and most of the parts prefabricated, and this is one of the quickest aircraft to assemble it is still a project that might be best left to those who can dedicate their life for a year to the project. (In the references below are several web sites by builders in progress)

This Glasair weighs 998 kilograms, though I do not have the specifics on the engine installed all versions of this plane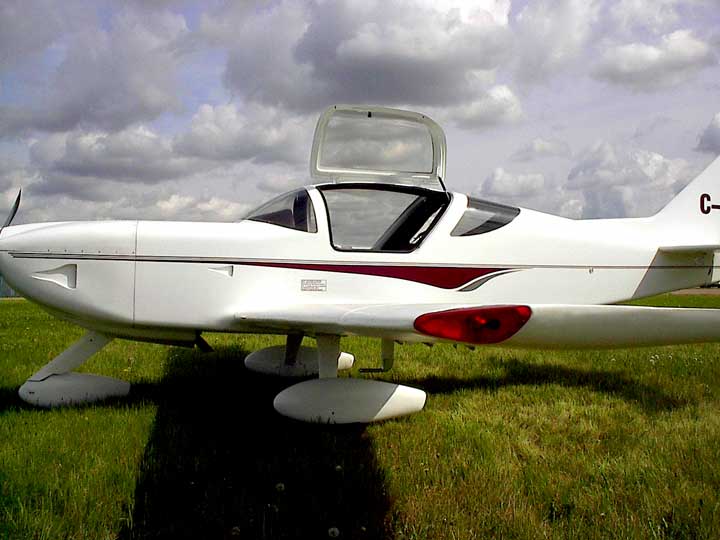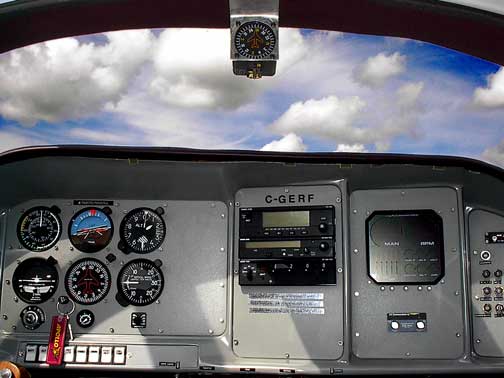 have extraordinary endurance and range. Some have extended tips on the wings to carry extra fuel but the aircraft gets its exceptional performance to its remarkable clean lines.

The panel with its electronic engine instruments is outstanding and you will notice that this aircraft has no antenna. Most builders put the various radio antenna right into the aircraft structure.

Because of the material used in building this machine it is strong enough to handle full aerobatics flight. This basic version with its fixed gear is a sensible aircraft to fly cross country VFR it stalls at just under eighty miles an hour so it requires good flight management and good weather.

Completed Glasair aircraft are available for sale and range from $55,000 US for a 150 hp fixed gear to a quarter million US for a fire breathing turbo charged 300hp retractable that does almost 300 mph.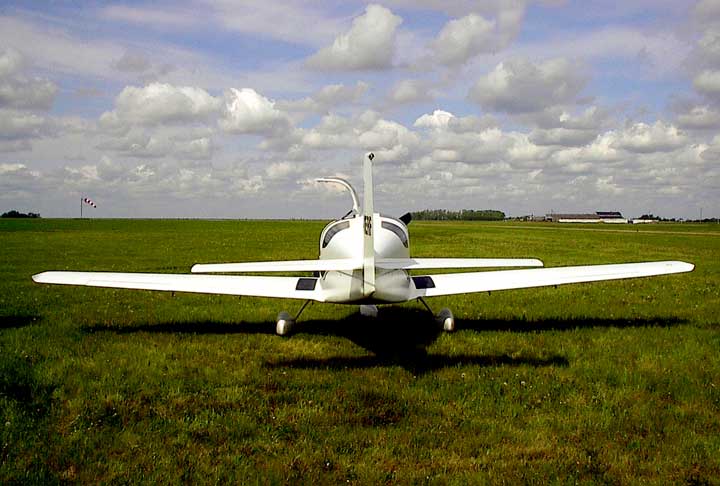 References:
Transport Canada, Airworthiness Manual, Chapter 549, Airworthiness Standards, Amateur-Built Aircraft 1998
Experimental Aircraft Association's Homebuilders site on the Glasair.
Experimental Aircraft Association's news, Tom Wathen Purchases Glastar assets: will operate both Glasair and Glastar out of Arlington Facility
Glasair web site. This is an attractive flash driven web site but it is a little difficult to get around. Best bet is go to the aircraft button at the top of the page, click on Glasair, then just read through from page to page, the navigation on the site does not work.
Experimental Aircraft Association's Member's Hanger, Flight reports on the Glasair III
Halstead, Roger, My Glasair III Construction Diary, Begun November 1996
Booher, Greg, Greg Booher's Glasair III August 1, 2000 Greg spent 5,600 hours building his aircraft.
Yeekes, Christopher, Glasair Construction Log October 2, 2002, at 1,475 hours into project.
Brian, Brian's Glasair Super II-S RG page home builders account of his project
John, Glasair I RG G-BMIO homepage, British builder's saga.
Mazin, Ben Glasair II-S RG #2087 pictures of work in progress
Glasair - List Homepage! links to Glasair information
Orlando Sanford Aircraft sales, 1985 Glasair I TD (tail dragger) $55,000 US
Easter, Craig, Glasair I RG for sale $70,000US
1993 Glasair III Turbo for sale $225,000 US
---
Return to Ensign - Return to Saskatchewan News
This page is a story posted on Ensign and/or Saskatchewan News, both of which are daily web sites offering a variety of material from scenic images, political commentary, information and news. These publications are the work of Faster Than Light Communications . If you would like to comment on this story or you wish to contact the editor of these sites please send us email.
Editor : Timothy W. Shire
Faster Than Light Communication
Box 1776, Tisdale, Saskatchewan, Canada, S0E 1T0
306 873 2004