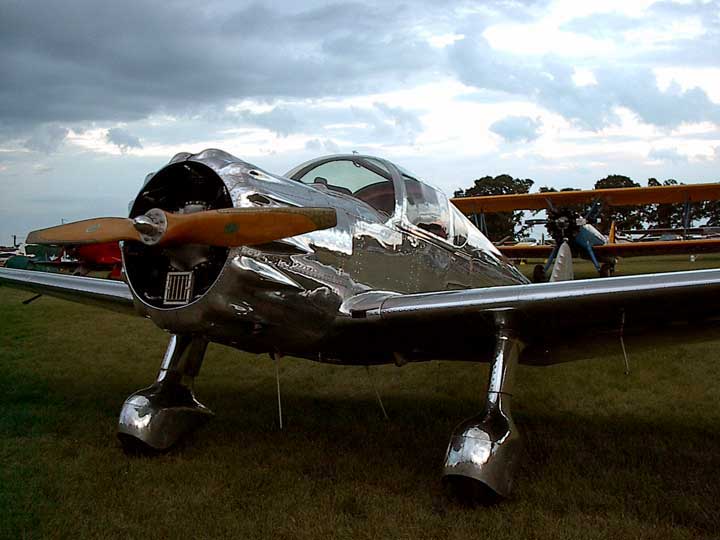 Ryan S-C 1938 - 41
FTLComm - Oshkosh, Wisconsin - Wednesday, December 3, 2003
The late 1930s was a time when aircraft designers were creating machines that had moved from the wire and fabric of the time to all metal. This same transistion was occurring in military aircraft as well. Ryan had been a leader in aviation and this depression made machine was not made in large numbers.
With a Warner Super Scarab 145hp radial engine this three seater could take off with a weight of 2,150 pound and cruise at 140 mph but had a remarkably low stall speed of 45 mph, had a ceiling of 19,400 feet and a range of 520 miles.
Claude Ryan had been out of business since 1931 because of the depression and reorganised his company and rolled out this machine in 1938. A variant of this aircraft had an inline supercharged 150 hp four cylinder Menasco engine. The wings on the aircraft are detachable.
I was surprised to see this one in perfect condition at AirVenture in Wisconsin this past summer having only seen pictures of this machine in a book it was a delight to see it sitting with flocks of other rare birds.
References:
History of the Ryan SC-W
Ryan SCW, Aerial Artifacts
---
Return to Ensign - Return to Saskatchewan News
This page is a story posted on Ensign and/or Saskatchewan News, both of which are daily web sites offering a variety of material from scenic images, political commentary, information and news. These publications are the work of Faster Than Light Communications . If you would like to comment on this story or you wish to contact the editor of these sites please send us email.
Editor : Timothy W. Shire
Faster Than Light Communication
Box 1776, Tisdale, Saskatchewan, Canada, S0E 1T0
306 873 2004