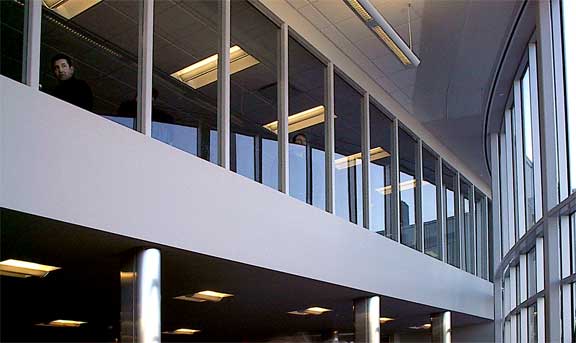 John would have liked it
FTLComm - Saskatoon - Saturday, January 10, 2004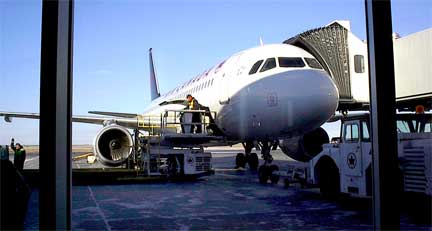 The redevelopment of the Saskatoon airport has been an ongoing project for several years and this was my first visit it became a City owned facility and now is known by a name that honour one of Canada's most interesting Prime Ministers.

The structure suits the needs of a prairie city perfectly and seems to fit the wide open nature of the land where John Diefenbaker grew up and never ever left.

As I watched this Airbus and its container baggage handling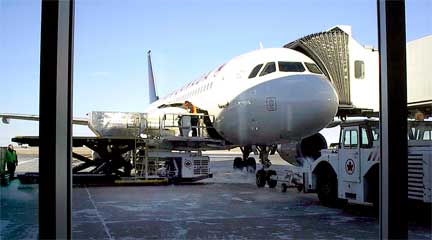 I know the man who was both humble and amazingly arrogant all at the same time would have delighted in the advancement in technology. Indeed he was a man who had paid little attention to technology preferring trains but easily adapted to travel in aircraft.

The last time I saw him he was seated in the lobby of a Regina hotel. Joe Clark had just spoken at the conference and he sat there all alone wearing a formal black coat a dark gray felt hat and a small bag at his feet, a friend and I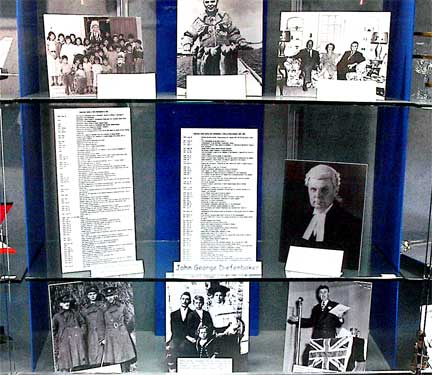 started down the stairs to keep the man we honoured and cared for so deeply, company but by the time we got to him his taxi had arrived and he was on his way to the airport and back to the house of all houses for him.

Visionary, World War I veteran,, determined politician, he was many things, "one Canada for all Canadians", "roads to resources" and our own "charter of rights". Had Canada moved forward with the vision he was elected upon this would be a much better Canada we live in today but it was his policy, pride and personal ignorance of technology that lead to the United States having the technicians and engineers to go to the moon and Canada to lose its developing lead in the aviation industry.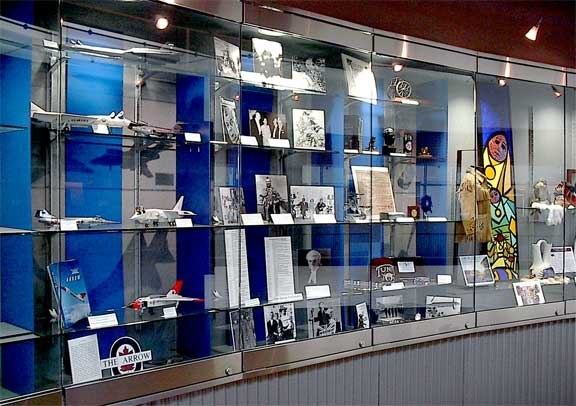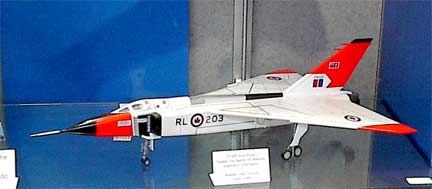 It is so ironic that John Diefenbaker's many great achievements are placed in this airport showcase and with them a model of his greatest visionary failure. The supersonic all weather AVRO Arrow interceptor that he canceled and actually had all parts of it destroyed. This aircraft was decades ahead of other developments in the world and with it we lost the technology and the creative talent to created it.
When I took the series of images that are combined to create this panorama of the John Diefenbaker airport in Saskatoon there was a image that did not record of the Tim Horton's concession. I created a filler image to bridge the missing area and when the software created the panorama it created what looks like a science fiction time distortion on the left side of the "Relay" store. (In order to see the QuickTime VR panorama you must have a recent version of QuickTime installed in your computer, to download click here. Windows Media Player can not display this image.)
A constant flow of people come each go from this portal to the world. The little Boeing 737 of WestJet is on its way to Winnipeg. Of the $127.91 for the ticket only $79 of it goes to WestJet. For air traffic control, weather information and a fuel tax there is a $29 charge. Saskatoon got only $5 to operate their airport and the Federal government pocketed $6.54 on its security tax even though it is spending less than a dollar of that and then the Federal Government's goods and services tax was $8.37. It makes one wonder about things when it costs 62% of the cost of air travel on a trip like this one for taxes and support. No wonder the air lines are finding it hard to make a go of things.

Which got me to thinking I wonder what John would have thought about that. I suspect he would have shaken his jowls just a bit, laughed a toothy laugh and pointed out that the Liberals like to fly in government aircraft and could care less about the traveling public.

---
---
Return to Ensign - Return to Saskatchewan News
This page is a story posted on Ensign and/or Saskatchewan News, both of which are daily web sites offering a variety of material from scenic images, political commentary, information and news. These publications are the work of Faster Than Light Communications . If you would like to comment on this story or you wish to contact the editor of these sites please send us email.
Editor : Timothy W. Shire
Faster Than Light Communication
Box 1776, Tisdale, Saskatchewan, Canada, S0E 1T0
306 873 2004