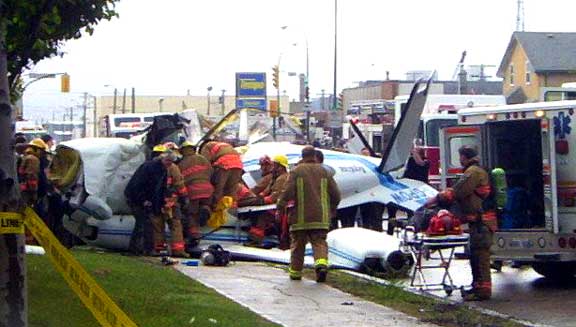 Everyone Survives Crash Landing at Logan and McPhillips
Winnipeg - Tuesday, June 11, 2002 - By: Cassandra Loiselle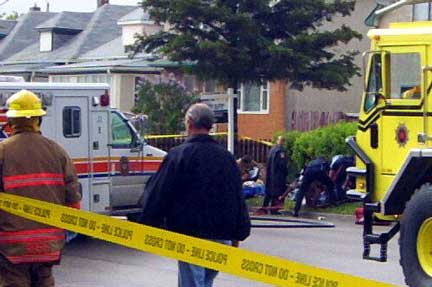 At about 9:30 this morning a Piper Chieftain (PA-31) twin engined aircraft made a forced landing coming to a halt at the corner of Logan and McPhillips in Winnipeg.

The plane was having difficulties and people reported loud noises like an engine back firing shortly before it crashed.

The plane was making a final approach onto runway 25 when it crashed.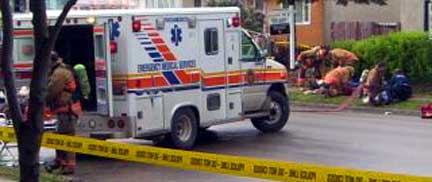 There were six people plus the pilot aboard.

The pilot in early reports had lost both legs.

All people were taken from the airplane to the Health Science Centre where two are in critical condition, one of whom was unstable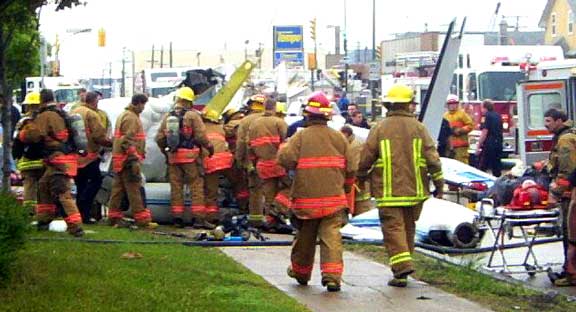 and one in stable condition.

On the radio it was mentioned that the aircraft came to a stop ten metres short of crashing into a gas station and just missed another on its initial landing.

The aircraft lost both wings, one was apparently torn off by a tree while the other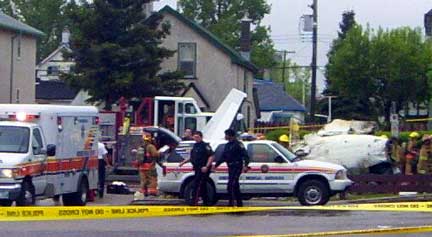 came off when in collision with a meat packing truck that was chopped literally in half.

Two cars and one van were crushed but no one on the ground was seriously injured.

Editor's Note: The aircraft owned and operated by Keystone Air Services Ltd. of Swan River is a 1974 Piper Chieftain, a version of the Navaho with two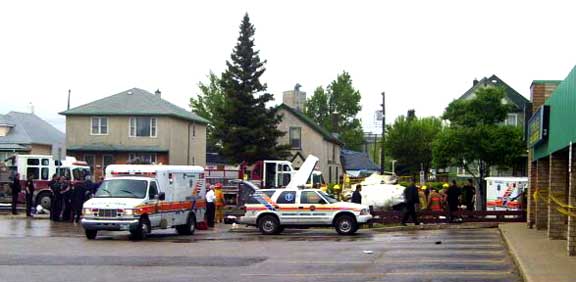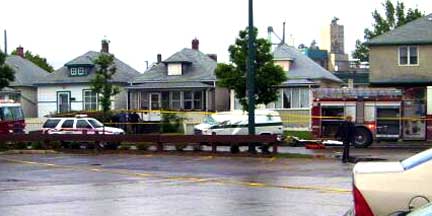 350hp lycoming engines carries six passengers in the executive format, or up to ten passengers in its eighteen foot long cabin. It cruises at 254 mph and has a stall speed of 85 mph.

This aircraft was imported into Canada in 1990 and has been operated by Keystone since then. It has an operating weight of 3,175 Kg.

This rugged aircraft is commonly used by short haul air services as they are durable and relatively easy to maintain. With locker tanks installed (most have these) this aircraft carries some 236 US gallons of gasoline, with full fuel the Chieftain has a range of over one thousand miles and in a crash of this type fire is likely and in this case some fire did occur but bystanders extinguished the flames and were involved in removing the pasengers from the wreckage. City rescue units were on the scene two minutes after it occured. Eye witness reported noise and flames from the aircraft as it descended and air traffic control received a distress call from the pilot reporting mechanical difficulty.

Keystone is frequently used by the government of Manitoba for charters in the Province. Two other similar crashes have happened in the last few years with this company and similar aircraft.