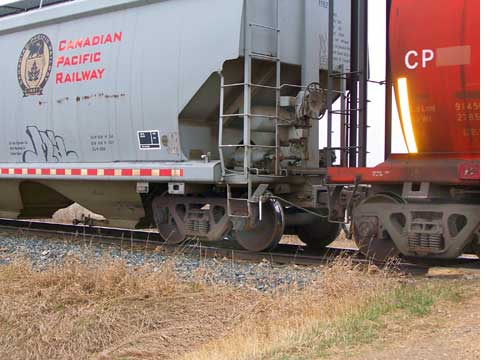 mix of six or so blocks of chemical cars. This was a heavy train and the very reason steam power disappeared.
With a steam powered train pulled traditional box cars which move a fraction of the load in a hopper car a single steam unit and crew could handle about sixty cars. With diesel electric units a crrew of two can easily march across the prairie with a load of two miles strung out behind them. In the mountains the sidings are limited and the length has to be scaled back.
As I watched that train drag itself along the line this morning I was thinking about the whole process of running a long train of that type. The locomotive engineer actually loads up the air system to run with some brakes on all the time to keep the train taught and reduce push and pull on small inclines. When a train stops and then resumes moving you rarely hear the crack, crack, crack that used to accompany such an action as each coupling slaped as the load came on it car after car. That's because the brakes are on and kept on during a stop and then only eased up when the thing gets moving again.