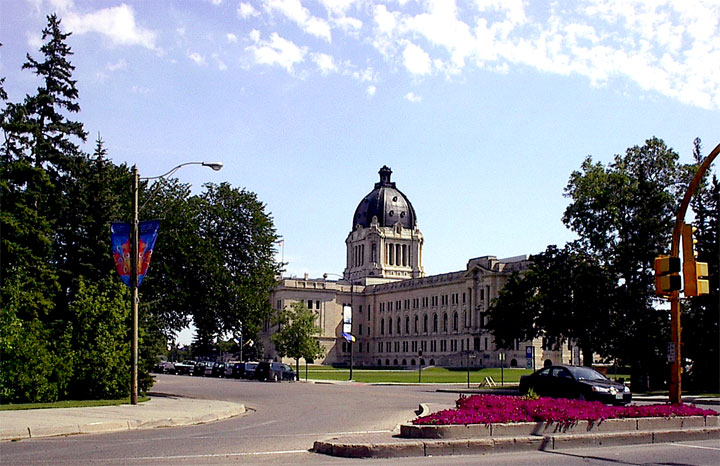 A province for 100 years
FTLComm - Tisdale - Monday, September 12, 2005

Although there is fun and excitement in commemorating the simple passage of time that in 1905 the Dominion of Canada accepted Saskatchewan and Alberta into the nation as full provinces responsible under the British North America Act to full fill their responsibilities to their citizens under the stipulations under that act that defined the rights and responsibilities of a Province within the Dominion. It is however, the appropriate time to consider just what we as a people are getting and contributing to the well being of each other, our province and to our nation.
The terms of the constitution under which Saskatchewan and Alberta were not much more defined than they had been for each of the other provinces who were already members of the confederation. Education, health care, civil law, the administration of justice and supervision and support of local government were among the specified things for which provincial government was to look after. One would have thought that after one hundred years these responsibilities and the roles of federal and provincial government would be clearly defined but the defining and redefining of these roles has been the obsession of provincial governments in these two provinces throughout their entire history.
Initially the conflict over natural resources would appear to have been worked out but we are no closer to accepted agreement than in 1905. During all those years there have been incredible actions taken both by Ottawa and the premiers of both provinces to maintain the status quo of conflict. Politicians of every stripe have been involved from very right wing Albertans to equally left wing Saskatchewan leaders as they have worn sore their gums on the federal halter. Though we all consider Alberta's reaction to the Federal energy bill under Trudeau as the most blatant it was actually NDP premier Allan Blakeny who was so ticked off with Federal taxes that he nationalised the provinces entire potash industry.
As of today the tension and discontent between Ottawa and the two provincial capitals; Edmonton and Regina is just one step below tears and gnashing of teeth. Federal equalisation structure hits both provinces in a manner that just seems totally unfair to both while other federal/provincial relations are actually counterproductive to the development of both Saskatchewan and Alberta. Railroad lines are under federal control yet their closure and operation impacts directly on operations of a highway system. Taxes cut into Alberta's belief in federalism right to the quick and with is very large aboriginal population Saskatchewan feels that the very standard of living of the province's people is being hammered by arbitrary federal government decisions and programmes.
Politicians and bureaucrats alike tremble in both provinces at the thought of opening the books on the terms of confederation yet failure to develop agreeable working and shared responsibilities is one of the main reasons we in this province must deal with depopulation and wildly escalating urbanisation. Alberta and its people are openly disgruntled over the fat fingers of Ottawa attempting at every turn to interfere in those things that seem to be issues for the province and not the nation.
Enjoy the fireworks, the real pyrotechnical kind and talk to you provincial politicians and your federal ones about sitting down and finding a few meaningful compromises that would reduce the number political fireworks that may just be reducing the quality of life here for all of us.
Return to Ensign - Return to Saskatchewan News
This page is a story posted on Ensign and/or Saskatchewan News, both of which are daily web sites offering a variety of material from scenic images, political commentary, information and news. These publications are the work of Faster Than Light Communications . If you would like to comment on this story or you wish to contact the editor of these sites please send us email.
Editor : Timothy W. Shire
Faster Than Light Communication
Box 1776, Tisdale, Saskatchewan, Canada, S0E 1T0
306 873 2004