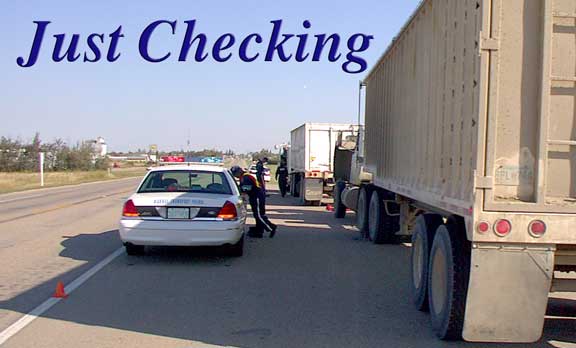 FTLComm - Tisdale - August 23, 2000

West of Tisdale on Highway #3, near Crooked River and this site just South of town on Highway #35 were set up as the Saskatchewan Transportation Highway Patrol are putting the rigs through a series of inspections. Each team consists of about six provincial specialist but as well there are SGI inspectors at each site and the RCMP is participating in the programme as well.

The trucks are pulled off and lights are checked, safety

equipment, while other
inspectors give the whole unit a thorough going over and complete reports generated on each inspection.

The team working South of town were quick efficient and really paying attention to details. One of the senior specials offered a summary of the statistics that would be compiled at the end of the day. It is clear that these people know what they are
looking for and were making sure that this spot check would assist the truckers in knowing their equipment is safe and road worthy but at the same time it is comforting to the rest of us that these machines are getting a look over during actual operations. These trucks have to be inspected on a regular basis by certified mechanics and signed off as safe but this road side inspection is another layer of safety that is being applied province wide with other teams working all over the province today doing similar inspections.

Three of the members of this team were young women and three were experienced mechanical specialists. Below one of the young women is mounted on a creeper as she makes her way from one end of this rig to the other going over the bottom side of the truck tapping here and there to see that things are tight and looking over everything from the trailer's frame structure to the mechanical parks like brake lines, electrical lines and general condition.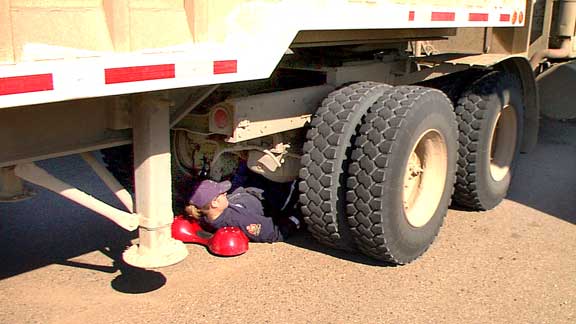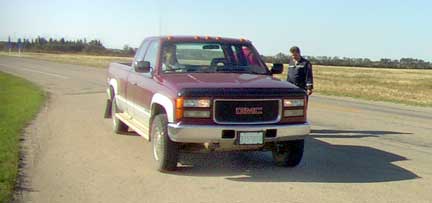 While I was at the site two pick ups were pulled over and given an inspection with SGI's technician giving them special attention. The Provincial Highway Patrol officer explained to me that though their primary role is to check out the big commercial trucks it is a good time to run through some light trucks as well and this gives both they and SGI a better idea of the condition of the vehicles that are on the road.

Below one technician is filling out the report on the truck they are going over, one of Tisdale dehydration's harvest trucks, while another technician had the driver open up the motor for her to give this area a thorough checking. With so much to process and look over on a complex vehicle it was impressive to see how quick and proficient this team was in doing their job. The truck was not being detained for a long time and each member of the team was polite and businesslike as the whole process moved along.