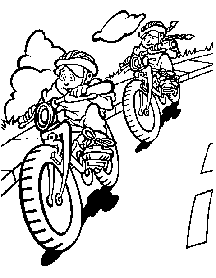 Several of the great handouts at the display are to promote bicycle safety and the proper selection and wearing of bicycle helmets. The caption for the cartoon which is in a colouring book (on the left) reads
Biking cab fun and safe!
• Protect your noggin - wear a helmet.
• Don't be a road hog - ride single-file on the right-hand side of the road.
This message will be news to most Tisdale bicycle riders both children and adults alike who all are determined to pretend to be living in London England. The persistence of this practice suggests that it is a local tradition because you will see children and adults deliberately heading over to the wrong side of the road to ride. Somehow the message and practice has become established in this community that riding on the wrong side of the road is the right thing to do. It is far to widespread to be an accident or just careless bike riding.

Pedestrians walk facing the traffic so they can step out of the way but a cyclist does not have that option so riding on the wrong side of the road is not only dangerous but verges on being a bit suicidal.