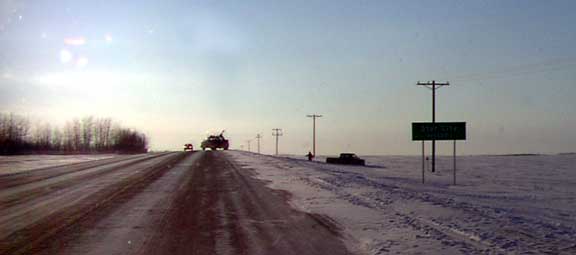 Flip Night
FTLComm - Tisdale - Saturday, March 16, 2002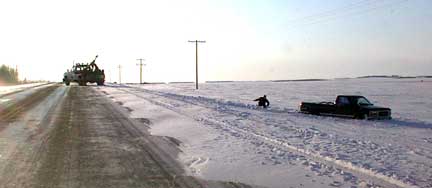 Friday afternoon I left Tisdale just after 5:00 for a straightforward trip to Prince Albert and back. Immediately just West of town I began encountering ice patches but the sure footed nature of a front wheel drive car made it seem as though things were fine. The first sign of trouble was this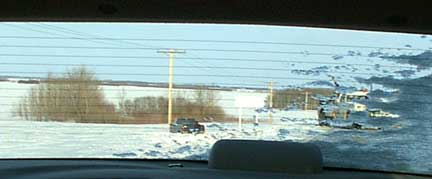 pickup that was being recovered from the ditch just East of the Star City turn off. Clearly this driver had hit an ice patch and straightened his vehicle up as he entered the ditch.

The natural reaction to a sudden loss of control
usually involves braking or steering to avoid the inevitable leaving the highway's surface. Braking on ice like that developing Friday afternoon really had little effect although vehicles with anti-lock brakes had a better time of slowing but the uneven patch structure was to much for a vehicle going at highway speed.

Half way between Star City and Melfort this very late model coupe had left the road East bound and was inverted in the North ditch (below). Since this vehicle was not far off the pavement it looks like the driver had time to attempt to slow down and had merely locked up his steering as he went of the road flipping the little car.

Though there were several cars off the road between Melfort and Prince Albert the highway had been salted and traffic was moving along smoothly.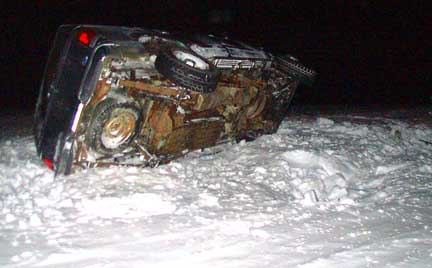 Out bound from Prince Albert after dark it was obvious that the road conditions had worsened and traffic was moving slower and the ice patches were everywhere.

Just West of the Weldon turn off this new Windstar van was spotted in the ditch with its interior lights on. It was tricking but another vehicle and myself were able to safely stop and together the other driver and I trudged through the snow to see if there was anyone in the lighted vehicle. The occupants had obviously been picked up even though the incident was only a few minutes old. This vehicle must have been going highway speed when it hit the ice patch skidded across the West bound lane into the North ditch and did a barrel roll scooping the snow from the ditch through the windshield.

The blood on the dash indicates that the occupant/s of this vehicle suffered minor injuries in the mishap.

Though there were indications of ice from Kinistino to Melfort there were no vehicles in the ditch.

Just East of Melfort on highway 3 the RCMP were on the scene with a tow truck attempting to right another inverted Windstar. Then between Valparaiso and Tisdale a vehicle lay on its side in the North ditch.

Four over turned vehicles seen in one trip. With such a mild winter and little snow in the ditches this has been a winter with few such mishaps but last night our area certainly was the scene for up ended cars and vans.