Busiest Intersection Needs Attention
FTLComm - Tisdale
May 11, 1999

This picture was taken late Monday afternoon and that little girl was not experiencing a fun moment. Just look at the traffic, a large gravel semi, across the other side is a grain "B" train, I am in the lane she is riding in and there was traffic waiting on the left.

I object to people riding bicycles on the left hand side of the street and it this instance I don't think it would have improved her safety one bit to have been walking her bike. This is a dangerous
There is a real need for side walking to conduct pedestrians over the tracks and safely over to the shopping mall.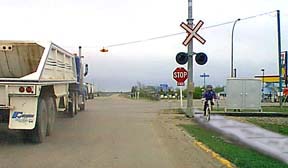 The high level of traffic where highways #3 and #35 meet is a hazard to both vehicles and pedestrians alike. Besides, the installation of a sidewalk would just improve the aesthetics of the situation and recognise the rights of the individual to move about with freedom and safety.

In the mean time, if you encounter a cyclist coming your way here or anywhere, come to a halt or slow to a minimum speed. Since they are on the wrong side of the street, they are picking their way along and we have to assume they don't really have a grasp of the situation they are in, so give them as much room as possible.