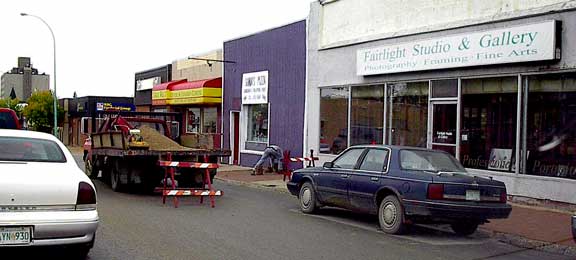 working on the sidewalks in progress this afternoon at 4:30
Downtown sidewalks
Tisdale - Wednesday, September 17, 2003 - by: Doug Hay
As far as access to buildings goes, these are the rules: new constructions have to be wheelchair accessible so the future is all good. As far as existing businesses -- legally we can't force them to do anything (it is their entrance and their property). The only option is if a concerned group of citizens brings it to the business community and they convince businesses to make changes. Appeals to and working with the chamber of commerce would be my advice.

As far as sidewalks and such, we do not leave hazzards because the cost outweighs legal bills or anything. If the Town Foreman is made aware of a sidewalk hazzard, a crew will be out to fix it.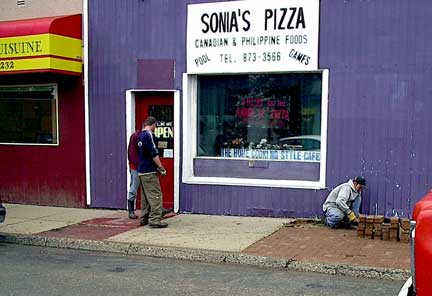 As far as beautification goes, there is a Community Enhancement Legacy 2005 (CEL.2005) that is working on a downtown beautification project. A landscape architect has been contracted and has just begun looking at main street from 97th to 103rd. This will be a fairly large project and sidewalks, of course, are a consideration.
Director of Economic Development
Town of Tisdale
---
Return to Ensign - Return to Saskatchewan News
This page is a story posted on Ensign and/or Saskatchewan News, both of which are daily web sites offering a variety of material from scenic images, political commentary, information and news. These publications are the work of Faster Than Light Communications . If you would like to comment on this story or you wish to contact the editor of these sites please send us email.
Editor : Timothy W. Shire
Faster Than Light Communication
Box 1776, Tisdale, Saskatchewan, Canada, S0E 1T0
306 873 2004