Last Tuesday this web site reported one citizen's displeasure with the unsafe situation around the front of one of the busiest places in Tisdale. Not only is there no improvement since a week ago, there seems to be the same complacency that will lead with certainty to injury.
During the night there was less than an inch of snow in the Tisdale area, but walked on and compressing that one inch of ice crystals had made it into a thin layer of very nasty stuff and from both of these pictures you can see that the surfaces are not flat, but sloping so that even those who are the most sure footed, are challenged with conditions like this.
The citizens of Tisdale, as with most Saskatchewan towns and villages, have no postal delivery and must make their way to and from the post office each day, or whatever safe passage they can muster.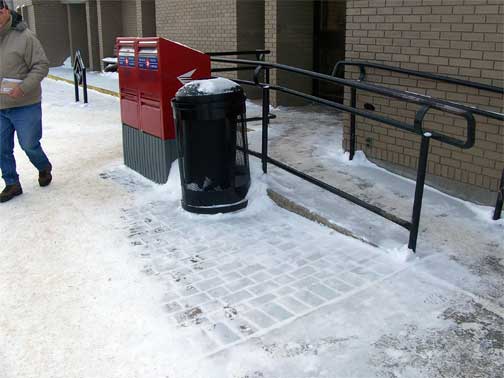 With the large revenues the Post Office obtains from the massive distribution of advertising materials they can certainly afford to clean up their walkways in front of the building.
It seems unfortunate, but it is likely that several people are going to have suffer some serious injury and only court proceedings will bring about meaningful change. In the meantime, before you fall and brake an arm, or a wrist, express yourself to those inside, it really should not have to come to a legal battle.