FTLComm - Tisdale - March 18, 2000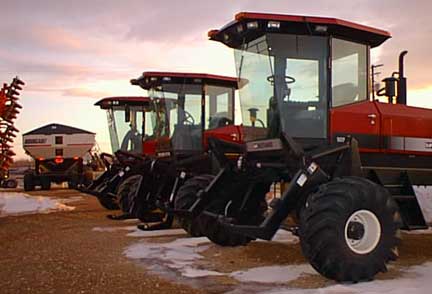 The miracle of modern agriculture is that the farmers of today have held on so long, earning so little. They have accomplished this by innovative and careful use of both technology and pushing themselves far beyond the limits of normal endurance both physically and emotionally to cope with the stress of low financial gain year after year. It is the mechanisation factor that is least understood by the nonagricultural portions of society. Realising that every piece of equipment that rolls out into the fields is worth huge amounts of money, it only seems reasonable to assume that the farmers are exaggerating a tad about their hardship.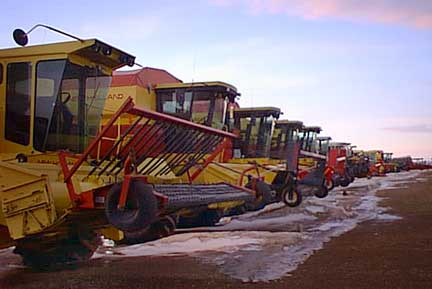 The whole process is far from simple. Saskatchewan's grain farmers have been cutting corners and finding ways to make every dollar spent on seeding and harvest the only money they will have to pay towards operations. Field preparation and post harvest work is all but a memory as new methods have been developed to allow seeding to take place without any preparation at all. As you look at this row of harvesting equipment almost all of these are used. This large dealership in one of the best agricultural production areas in the province is the only dealership in town and its inventory is pared down to the minimum of a few tractors and a few combines. Most of the equipment on the lot is what farmers will be able to afford. Slightly newer then what they are presently using and with less hours on them, ready to be moved into service only if the present equipment reaches a point where the farmer can no longer keep it economically serviceable
In this QuickTime VR panorama you can use your mouse to look around the whole site of John Bob Farm Equipment and you will discover that most of the inventory you see is several years old. Farmers are cautious when it comes to buying equipment and they have to be, a tractor or combine each can be close to a quarter million dollars and every implement that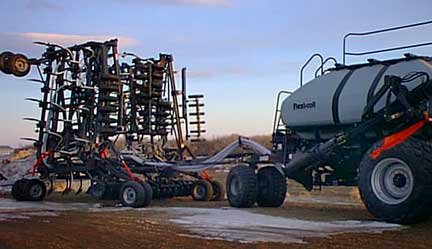 will be hitched on to it will also
send him scurrying to find financing to make the purchase.

The picture on the right and the one below it, illustrate the amazing development of continuous cropping and one pass over the field farming. These complex field trains till the soil, add fertiliser, seed and pack the ground all in a single move across the field. To achieve this efficiency the capital outlay in equipment is coupled to immense expenses for a massive tractor to pull the set up and then there is fuel and chemical cost along with the cost of seed.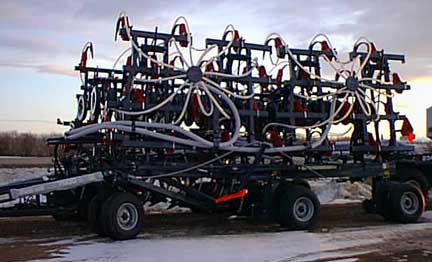 The recent agreement for
Ottawa to at last make a minor contribution to offset the escalating transportation costs and the reduced returns caused by trade agreements and reduced subsidies, buoyed the ever optimistic spirits of Saskatchewan farmers, as they could see that little bit of money being just a little help to get this year's crop in the ground, giving him some time to hope that world commodity prices will move up just a bit.

But those spirits are again sinking, as petroleum prices move upward, since the fuel component is a big deal in mechanised farming and of the various businesses the farmer will always owe money to, the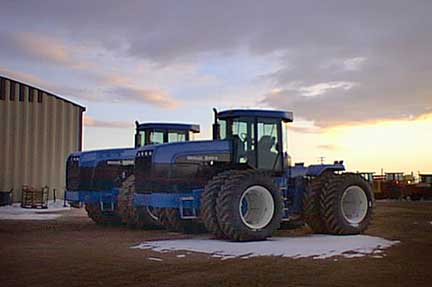 fuel companies have to be paid
or everything stops. With the demise of small grain elevator delivery points all grain is being moved to the inland terminals by commercial trucks burning ever more highly priced fuel. The farmer pays for his crop not only to be planted and harvested by he pays for it to be delivered to the elevator then shipped to port. It is conceivable that it will cost more than 20% for fuel this year and that's 20% more for getting it to market and the value of the commodity is the lowest ever.

With perhaps as little as two weeks before the tractors are started and rumbling out in the fields, its time for the tires to be kicked, fluids topped up, but most of all,, office work to see that there will be fuel in the tanks, fertilizer in the hoppers and for many, ponderous hope that the transmission doesn't turn to particles and pistons stay inside the cylinder walls.

For John McShannock and Bob Penner, the owners of this dealership, they too are hoping things hold together for their farmer customers because they also need a good crop, to see the payments made and parts purchased. New equipment sales will have to wait for another year when there is more cash, but for now its time to be ready. Parts on the shelf, used equipment in the yard that will fill in and get the farmer back into operation if the old machine gives up and somehow keep enough of a skilled and highly trained staff at work to back everything up. It takes more then a hoe to farm ten square miles of countryside.