FTLComm - Tisdale - June 24, 2000
This project is one of the important ones as the Senior community has decided to build for themselves a facility that will meet their needs and the needs of the community for the years to come. But to do something like build a

complete multi-purpose building take a lot of money and a steady stream of fundraising projects have been moving along as the group works toward their goal so that construction can begin.

These pictures show you the scene at a few minutes after nine Saturday morning as they prepared for a fund raising auction sale. As you entered the door of the curling portion of the RecPlex a table greeted you where you signed in to get a bidding number, at another table a pair of ladies were selling raffle tickets.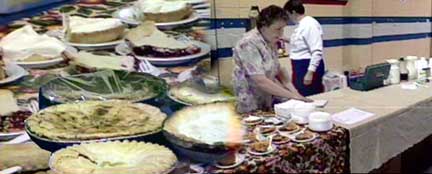 The place that was drawing the pre-auction crowd was the "pie table". Berry pies, rhubarb pies, cream pies, pies of all mouth watering kinds covered the table and at the other end some hot dogs were cooking. $1.50 for a piece of pie, fifty cents for coffee, tea or juice and $1.00 for a hotdog. Clearly this project was going to be a success because as dear readers you all know, the success of any event depends on the quality of the food. Sadly I could not allow myself more then a drool at the pie table, and even worry about the access of a hot dog but alas the dog was my only indulgence.

Most garage and auction sales consist of products and items people no longer want and that is what made this sale really different. Since the contributors to the sales products came largely from senior citizens the quality of the products for sale was exceptional

and the variety truly something special. From sofas to riding lawn mowers, barrel wood stoves, new hiking boots to lamps and tumblers. A complete hardware and department store all laid out for sale to the highest bidder.

We can't show you everything but some items really caught my eye. There were several sets of dolls and some doll clothes, several televsion sets and a new hand made Cowachan sweater. Among the items were many brand new products still in their original packaging and box after box of small housewares that each seemed to hold some interesting treasure.

If you missed this sale don't feel bad you can get in on some of the other fund raising projects this group will be holding. They have a long way to go and a sizable sum of money yet to raise to make their new building appear on the site seen at the top of the page.