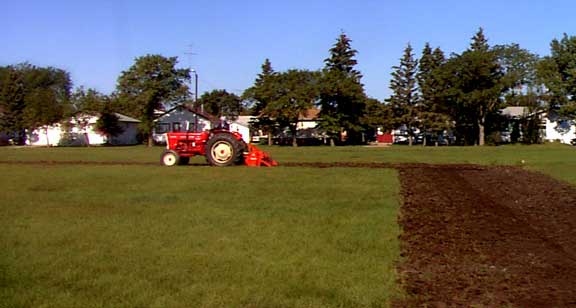 Tree Planting Time
FTLComm - Tisdale - Monday, August 12, 2002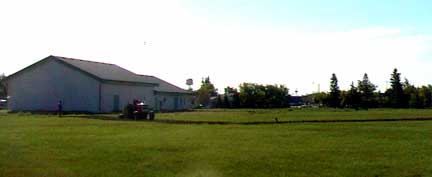 A couple of weeks ago some stakes appeared in the field beside Tisdale's Senior Citizens Golden Age Centre.

This morning it became apparent what the stakes were for as they mark off the dimensions for the area that will soon be a small grove of trees.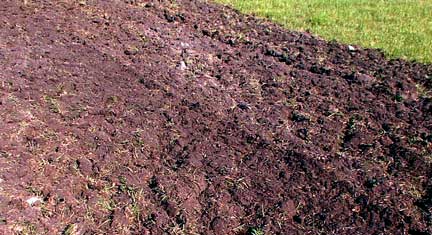 Volunteers were on hand this morning with Mr. Chupa's tractor and roto-tiller working up a wide patch the full width of the field preparing it to receive some young trees. The dry Tisdale soil revealed the sad fact that this has been an incredibly dry year as the turf easily turned to powder.

The first landscaping around the Centre took place almost a month ago when grass was planted at both ends of the building. This is the next step.

When asked if they were following the original architectural plans for the site the gentlemen both indicated that they were although they were not exactly sure what the plans had been. This is not at all surprising because when a project like this one is undertaken the goals are often short term and the sometimes glamorous original plans get modified due to costs and contingencies. Below is a look at the original plans and as you can see the drive ways have stuck to the original idea and the site has full potential of the parking lot being developed as seen below.

The architectural drawing shows trees in the parking lot and some spotted along the route developed today. It will be interesting to see how this part of the project comes along.