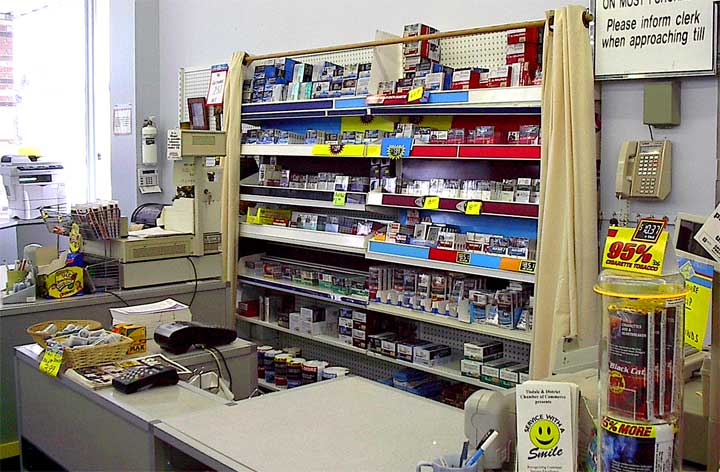 Time to pull the curtain
FTLComm - Tisdale - Friday, January 21, 2005

Many of Saskatchewan's retail outlets did not set their tobacco products back out on full display after a lower court ruled against the Saskatchewan Government's ban on the practice. The feeling was that a product as dangerous and hazardous to everyone as tobacco really need not be put out front and so Extra Foods and others have kept the products in locked cabinets.

But many stores saw the cloaking of the products as hampering sales and opened up the curtain that covered them or moved them out where people could see them. I noticed in the Melfort Mac store that the tobacco products were given prominent display, so much so that they are a major part of the store's appearance.

When the tobacco companies appealed the original regulation and won in court there was a heavy sigh right across the country because several other provinces had followed suit and like Saskatchewan felt that displaying smoking stuff so prominently made it seem to kids that it was an okay thing to be doing.

The Supreme Court listened to the opening arguments by the tobacco companies and refused to bother going on with hearing the counter arguments from the Government of Saskatchewan and other health organisations. The Court over turned the lower court ruling and its time to pull the curtains back over the shameful sale of what is essentially a powerful poison, one that is additive and far more dangerous to the general population than most of the "illegal" drugs.

I have heard no time line for when the regulation to cover-up goes back into effect but this picture was taken yesterday in a Tisdale Pharmacy. It seemed odd to me that the merchants have not just pulled the curtain now that they ruling is completely clear to all.
---
Return to Ensign - Return to Saskatchewan News
This page is a story posted on Ensign and/or Saskatchewan News, both of which are daily web sites offering a variety of material from scenic images, political commentary, information and news. These publications are the work of Faster Than Light Communications . If you would like to comment on this story or you wish to contact the editor of these sites please send us email.
Editor : Timothy W. Shire
Faster Than Light Communication
Box 1776, Tisdale, Saskatchewan, Canada, S0E 1T0
306 873 2004