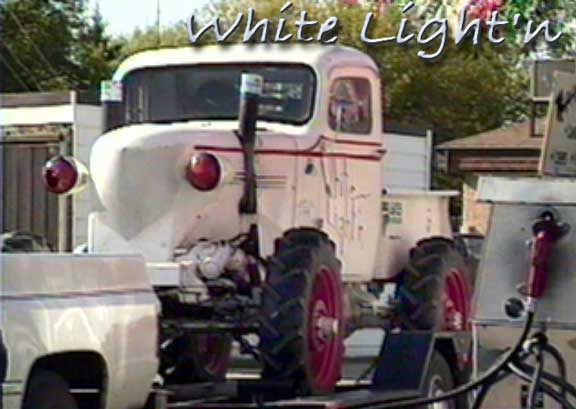 FTLComm - Tisdale - June 3, 2000
Three "Good Ole Boys" are off to the first race of the season, "Mud Racin'".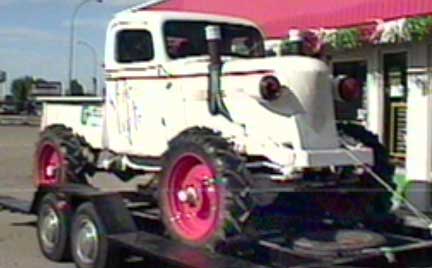 Three race locations this year and the first one is this weekend in Dundurn where this vehicles and others like it will dash through eighteen inches of mud and water. As the crew described the excitement they were anticipating they could barely contain themselves in the cab of their pickup.

This team from Nipawin, sponsored by the White Fox Hotel, have what they think will be a contender this year. Tucked under the hood of this machine is a 454 cubic inch GM engine that burns Nitrous (top fuel). They were bouncin' gold smiles as they explained with delight what it could do and how the mud would fly.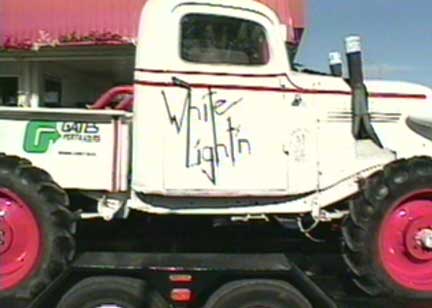 The attraction of mud racing is the incredible fun of making a mess and making a noise all at the same time. It gets right to the essentials of what it means to have the spirit of a ten year old boy and the resources to have big toys. The popularity of this sport is amazing as the vehicles have to be created specifically for the sport and are very expensive to build.

Some of us can understand the thrill and appreciate the sound and fury of it all while at the same time I have trouble quite understanding trying to ride a wild and crazed bull.

Nipawin's mud racing is in August. If you want to see some dirty racing check it out.