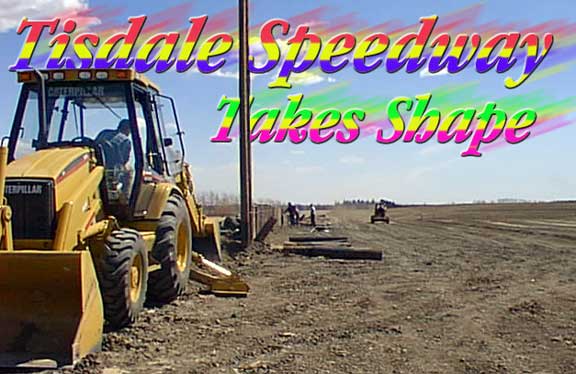 FTLComm - Tisdale - May 1, 2000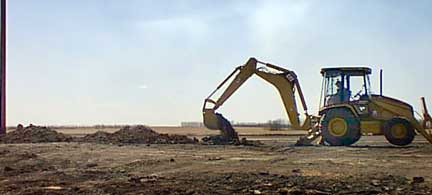 The Tisdale Stock Car Association only held its organisational meeting back on March 10 and already the track is in place and the basic elements of a first rate facility are taking shape.

Most stock car tracks are located away from town and in some obscure location but Tisdale has recognised the positive benifits of this new facility and it is located in the South end of the town's fair grounds. This will mean that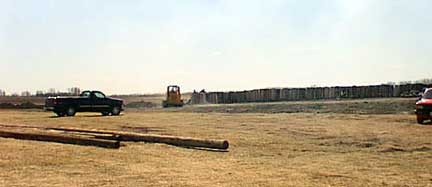 events at the speed way will
be easy to get to and close to emergency and public facilities. The town and fairgrounds officials are to be commended for this foresight and awareness.

These pictures were taken early afternoon Sunday and as you can see a volunteer crew are placing the protection barrier for spectators in place as Chupa Trenching and Excavation makes their contribution to this community project by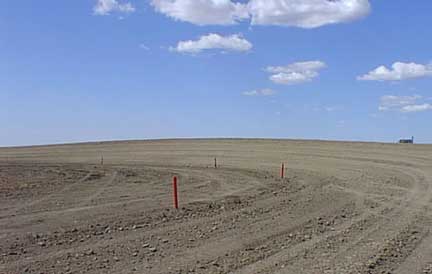 volunteering the construction
of a ditch in which the barrier is being assembled from power polls.

The track is completely shaped up with the pit area smoothed off and the excellent Tisdale clay forming a well packed race surface. The picture on the right looks North towards turn one as the turns at both ends of the track have been elevated to make this a safe and competitive facility.

The composite picture below (made fromt three pictures) shows the whole venue as we look from the top of turn two back on the race track, the pit area and the spectator area where the barrier is being constructed. The will be the premier race track in the curcuit planned and laid out in such a deliberate and knowledgable manner. Congratulations to the folks in the Tisdale club and may we at Ensign extend appreciation to the contractors for their efforts in creating this addition to the community.

Click "Here" to go to Ensign Front page
If you accessed this page directly from an alien search engine you can see North Central Internet News by clicking here.
Ensign, North Central Internet News, published daily by Faster Than Light Communications, FTLComm