Pasquia League Champions
Three Years Straight - Tisdale Ramblers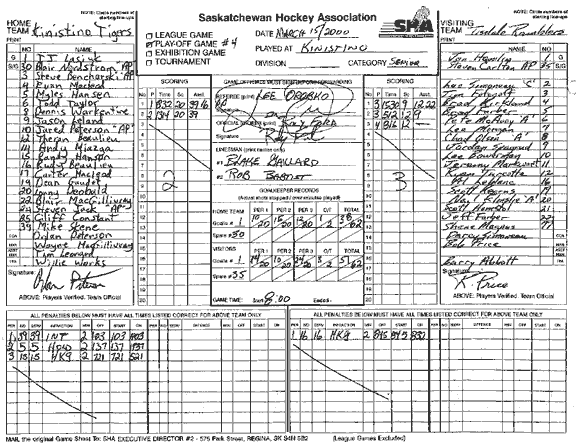 FTLComm - Kinistino - March 16, 2000
Four games straight, the Ramblers ending the 1999 - 2000 season last night with their three to two win over the Kinistino Tigers.

Last night's game score sheet is above and it tells the story. Kinistino started the scoring in the game early in the first period with a goal by Lanny Deobald from Mike Skene and Rudy Beaulieu. Each team had score chances in the first period with a penalty and power play each. At the end of the first Tisdale had delivered only ten shots on net while the Tigers had fourteen scoring attempts and a goal.

In the second with only a minute and half left in the period Lanny Deobald again from a pass from Mike Skene made it a two to nothing hockey game. But this period the Ramblers outshot the Tigers 15 to 10 and during that period the tigers successfully kept the Ramblers scoreless while having to play five minutes short handed with Miles Hanson in the penalty box.

The third period was a Rambler show, they only fired twelve shots at goalie Lasuik and scored twice. Jordan Spagrud got the first one just over five minutes into the period on a pass from Ryan Turcotte and Jeff Farber. Though the Ramblers had a power play they did not succeed with that but waited a minute later and Ryan Turcotte put in the tying goal on a pass from Jordan Spagrud. But the Tigers did not go peacefully into the night as they slammed away at Jon Hamlin with twenty four unsuccessful shots on net.

Overtime was a mere two minutes long when again Turcotte finished off the season with an unassisted goal and for three straight seasons the Tisdale Ramblers hold the league Championship.