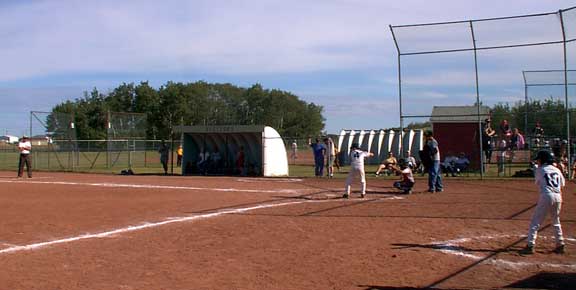 Short Guys Baseball
FTLComm - Tisdale - Sunday, June 24, 2001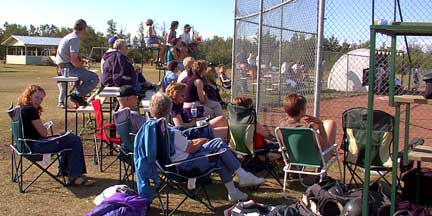 After raining all morning it is a tribute to the excellent surface on the ball diamonds that everything was ship-shape for the afternoon tournament. These pictures were taken around six with the semi-finals in progress.

This level of little league involves players in about grade five and six and above we see Melfort malling Nipawin 9 - 1 a this point in the game. Nipawin with only nine players was having
some problems with fatigue and pitching. Meanwhile on the next field (below) one of the Tisdale teams was doing their best and as you can see the parents and supports were in there with every pitch, swing and run.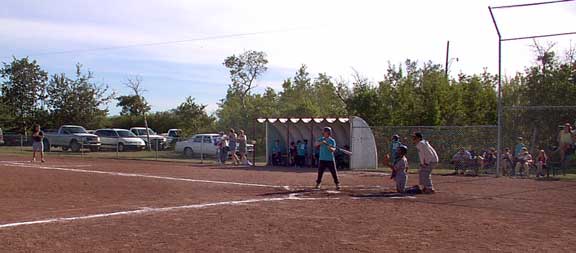 Below is two frames of the Nipawin pitcher who had already used up what he had and was just trying to keep his team in the game, his arm is sore and there is no one on the bench. After the next bat there were tears as the arm was just tore sore even to play the infield.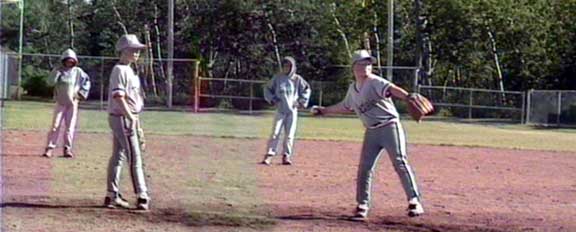 Below are two frames from the Tisdale picture who seems to have lots of zip left at this time of a tough day as he keeps burning them in.

Melfort's infields were tanacious base stealers and really were enjoying the game. Below right the Tisdale manager and coach were appreciating their players efforts, supportive and encouraging. The sportsmanship at this tournament was excellent, a pity hockey was not like this.