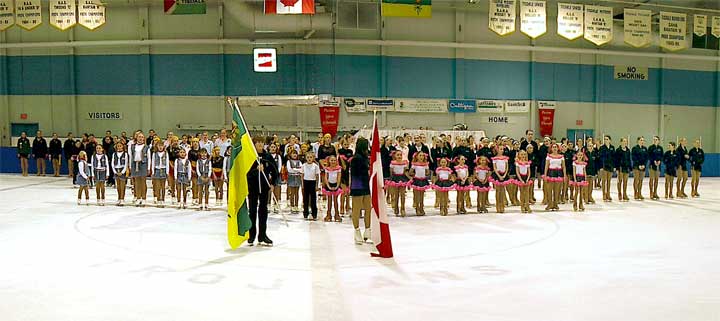 Culligan Synchronised Skating
Provincial Competition
FTLComm - Tisdale - Sunday, February 8, 2004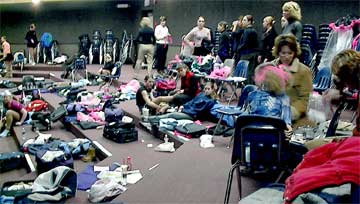 Editor's Note: Sorry about the extreme length of the video clips. Each is just under 7MB. I originally made them less than 2MB but they were just to small to give you the story.


There was excitement in the air when I arrived at the RECPlex shortly after 11:00 Saturday morning as skater and parents went through the ritual of preparing for a competition Tisdale's youngest group the Ice-Frenzie were in the theatre getting themselves ready (right) and from that moment on I realised this was going to be something special.

The opening ceremony began with the National anthem by Charlie-Rae Bennett as Paul-Reemi Poulin and Colbie skated the colours around the arena then Tisdale's Renee LaBlanc made short welcome speech the a speech by Adeline Wuschenny, Doug Steele read the officials oath and Erin Jackson the skater's and the competition officially got under way.
The first competition was Festival Pre-Juvenile with Tisdales Ice-Frenzie and Sycronicity from Lanigan.
The Frenzie were exactly that and had the perfect spirit and energy to begin the day's competition They had speed, precision and winning marks exciting the judges and the audience alike.

Ice Frenzie - Tisdale

Daniel Bennett
Carlie Bowditch
Courtney Hancherow
Megan Hancherow
Lacey Henderson
Amy Kapeller
Julie Kehrig
Jocelyn LeBlanc
Jade Lenard
Taylor Lenard
Caitlin McDonald
Kailee Sawatzky
Hannnah Stacey
Brecklin Strilaeff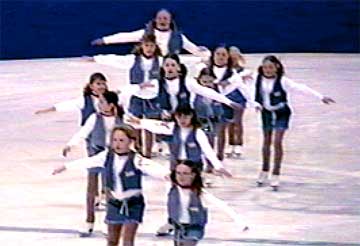 Lanigan's Syncronicity wore excellent costumes in keeping with the great music they select to skate to, Shania Twain's "UP".

Syncronicity - Lanigan.

Casside Falk
Amissa Funk
Hayley German
Traci German
Jordan Greve
Lindsay Greve
Marinda Greve
Teesha Jantz
Courtney Knaus
Morgan McEachern
Alexis Schur
Katelyn Stevenson

The second competition of the day was the Festival Pre-novice competition were the Pirates of the Ice from Saskatoon were first on the ice. Their routine was performed to some Gilbert and Sullivan music and showed a considerable level of drama in their presentation. Below they had their team picture taken.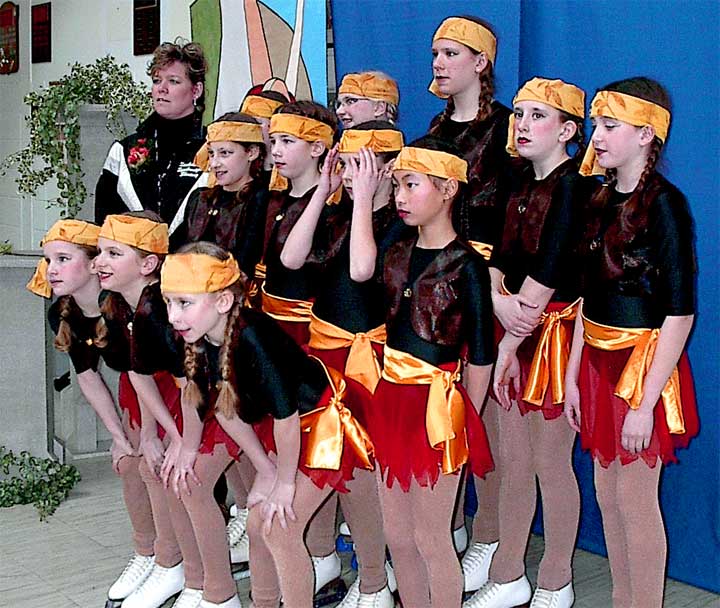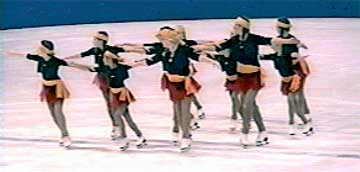 Pirates of the Ice - Saskatoon

Monica Buchko
Emily Erker
Kirsten Eisner
Kenzie Friesen
Chelsey Friske
Chelsea Grimand
Danielle Humble
Whitney Luu
Andrea Revet
Aryn Roussin
Nancy Winder
Melanie Webster

Below is the scene of the proud parents recording the group picture above. Competitive synchronised skating is showing remarkable development all across Canada and it is only a matter of time until it is an Olympic sport.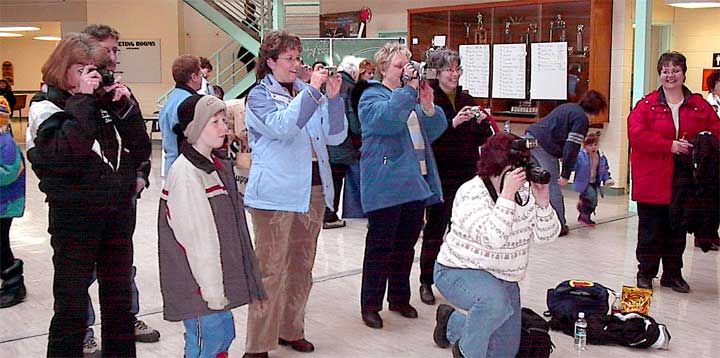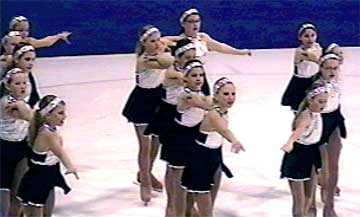 There were three teams in this Festival Pre-novice competition and the second group to take to the ice were Ice Mania from Tisdale. Ice Mania includes some fine accomplished individual skaters.


Ice Mania - Tisdale

Pam Allgrove
Charlie-Rae Bennett
Nicole Delorme
Sharai Hoffus
Kaitlin Jacobs
Steffanie Johnson
Janine Lablanc
Taylor Lenard
Michaela McDonald
Alica Olson
Patty Reed
Brecklin Strilaeff
Jackie Sveinbjornson
Rikki Lynn Trombley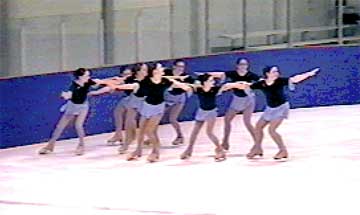 To round out this Pre-novice competition the third team was from Regina, Ice Angels. This was close as the Angels edged out Ice Mania by a point or two as these three teams were closely matched.


Ice Angels - Regina

Madeline Berry
Coral Borkus
Mistee Maier
Jami-Rae Renwick
Kara Schopf
Sara Smith
Kate Thornton
Amy Waldal

The Tisdale figure skating club sponsored this excellent event but had the support of Tisdale businesses with a large number of excellent prizes were in a fund raising draw.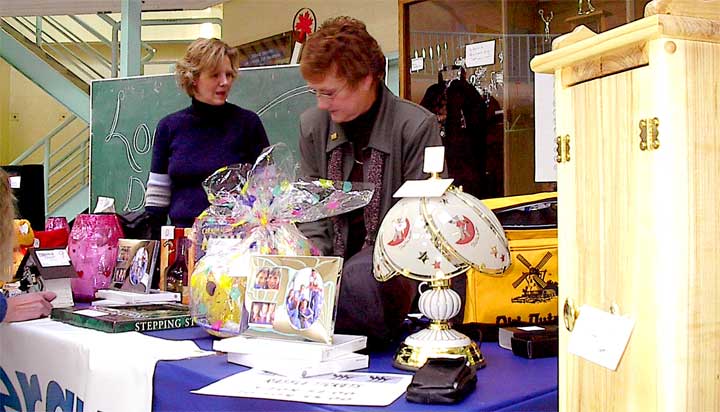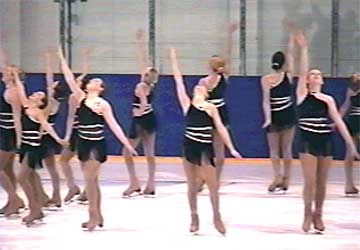 The next competition was the Festival Novice three and a half minute free programme. Tisdale's Ice Fever were the first team to compete in this category. I really liked the choice of music for this routine lending the country rock beat to movement on ice.


Ice Fever - Tisdale

Meaghan Baxter
Richelle Fairburn
Karis Guest
Kaley Henderson
Keeshia Hoffus
Sharai Hoffus
Amy Jackson
Erin Jackson
Celeste Lalonde
Janine LeBlanc
Josee Marchildon
Lynell Olson
Veronique Poulin
Michelle Teale
Nicole Wutke

Ice Fever and most of the other groups had selected dark coloured costumes which look great in contrast with the ice but it was great to see the pony tales and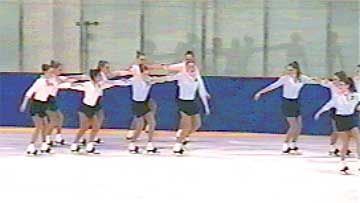 sweaters, scarves and saddle loafers of the mid fifties worn by the Starlytes from Drake. This number had the tradition moves but ended with some individual dance steps as the team was spread out over the entire neutral zone as their number ended.


Starlytes - Drake

Rebecca Bartel
Brittany Blair
Janelle Ewen
Rochelle Fisher
Rachel Gunther
Alissa Hoehn
Emily Hoehn
Courtney Howat
Courtney Kline
Kimber Kline
Kirstie Kline
Stephanie Lynch
reanne Meschishnick
Chelsea Possberg
Kandis Wall
Below are the Starlytes in the stands.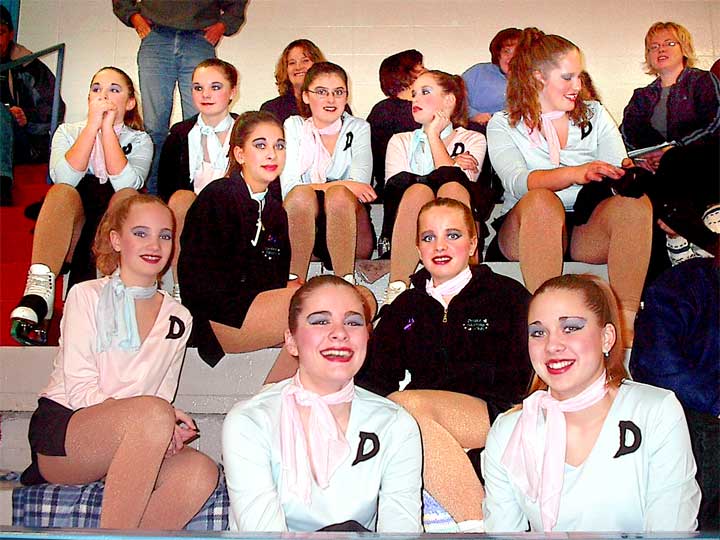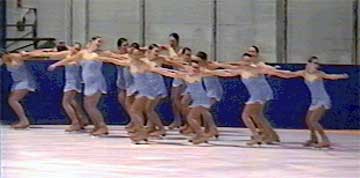 Regina's Crystal Ice wrapped up the Festival Novice competition with their number. Crystal Ice was more like a diamond as they truly glittered Saturday afternoon.


Crystal Ice - Regina

Megan Armbruster
Jennifer Barr
Madeline Berry
Hayley Best
Rebecca Black
Stephanie Bourassa
Dianne Fenrich
Bobbee Gourlay
Michelle Jay
Angela Nielsen
Jami-Renwick
Kara Schopf
Erin Schmidt
Sara Smith
Samantha Tapp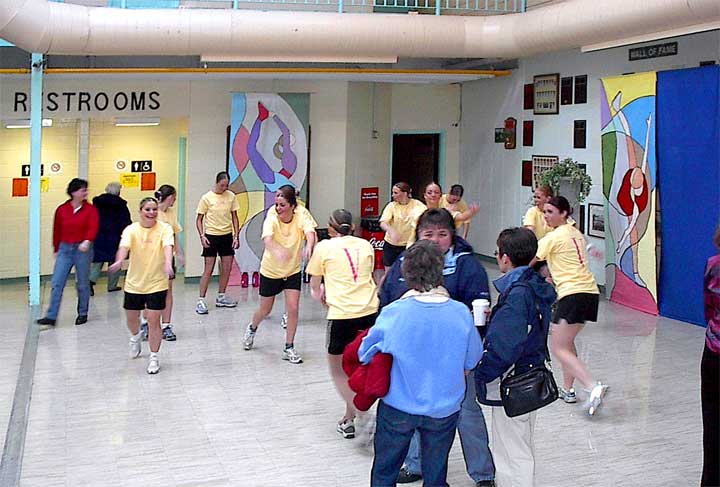 Regina's Virtuoso were the last group to perform Saturday so they took some time for a like workout (above) before they dressed for their number.
One of the highlights of the day was the presentation by Emerald Ice an adult group from Regina. Susan Waldal explained that the group tries to have as many members in the team so that they have enough to perform or compete as everyone in the group works. They have two hours practice ice time a week.

Emerald Ice - Regina

Cheryl Aldous
Sheila Aldous
Bonnie Barber
Marly Copeman
Amy Cummins
Sharon Davis
Sandy Dyck
Charlene Enion
March Glass
Janis Johnson
Donna Kabaluk
Pam Miller
Sara Olson
Kim Ryan
Kendra Scott
Jana Teichroeb
Erin Tyson
Lynn Valgardson
Wendy Bradford
Alicia Denis
Tara Grady
Hody Nahorniak
Michelle Statz
Susan Waldal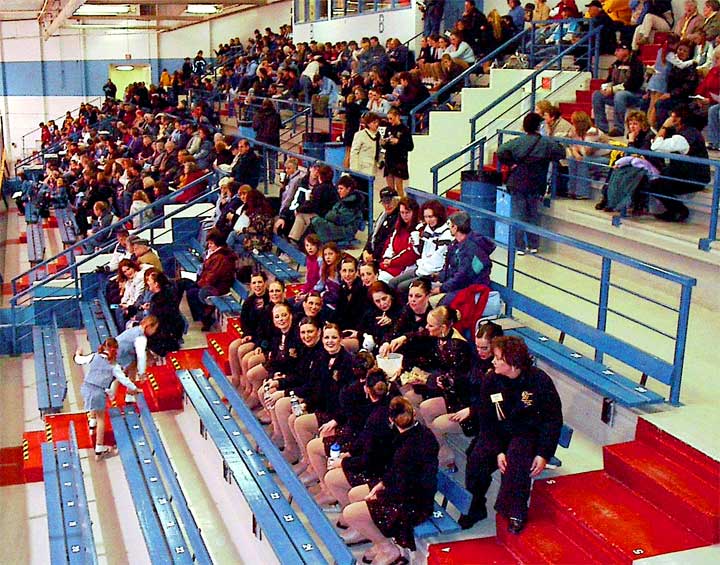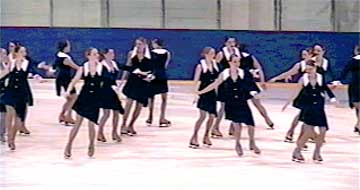 The final competition was the Festival Junior class and it was truly a delight. Momentum from Martensville set their routine in the 40s and 50s to the tunes of Frank Sinatra. Their performance was encouraging to all of the younger skaters to see how smooth a routine can be.
Momentum - Martensville

Janelle Bailey
Lauren Brewster
Becky Dahlin
Danielle Dale
Kara Friske
Melissa Fry
Christine George
Erin Goodjonson
Amanda Harbourne
Melissa Klassen
Michelle Klassen
Krista Lafreniere
Lisa Maier
Sheena Murphy
Ashlee Muyare
Shalane Staples
Brittany Thompson
Danielle Wilderman
Tina Wetzel
It seemed like it was meant to be as the afternoon wore on each performance went one notch better. Virtuoso from Regina made it to the top to close out the day. By far the most artistic and most dance like performance the judges and audience agreed that this was as good as it gets.

Virtuoso - Regina

Kathryn Black
Karen Dean
Breanna Dorn
Dianna Fenrich
Bobbee Gourlay
Janis Johnson
Amy Laing
Danielle McEwen
Angela Nielson
Michelle Pastuch
Carrie Rodger
Chelsea Rogerson
Lindsay Schneider
Leanne Sorenson
Sarah Thauberger
Tracy Tratch
Jill Urguhart
Tricia Pilsner
The closing ceremony was absolutely splendid with all of the skaters on the ice, medals were presented and the fans had an opportunity to show their appreciation for an outstanding day of competition and great skating.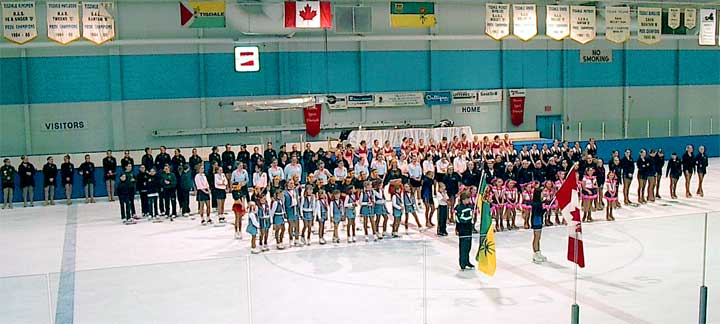 A video tape of the complete competition is available from Faster Than Light Communications for $15 plus shipping.
Return to Ensign - Return to Saskatchewan News
This page is a story posted on Ensign and/or Saskatchewan News, both of which are daily web sites offering a variety of material from scenic images, political commentary, information and news. These publications are the work of Faster Than Light Communications . If you would like to comment on this story or you wish to contact the editor of these sites please send us email.
Editor : Timothy W. Shire
Faster Than Light Communication
Box 1776, Tisdale, Saskatchewan, Canada, S0E 1T0
306 873 2004