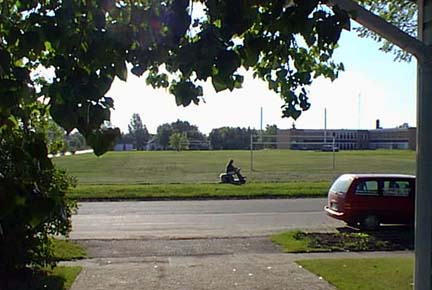 With the towns big rotary mower laid up awaiting repairs the football field was getting a bit shaggy. For more then a week players, young and old have been assembling on the field each night for a game so something had to be done.

Yesterday afternoon just at supper time the process began as one man pushed his mower and another road his the huge field began to get a major clean up. Then at 8:30 this morning our man is back on the job and things are looking good.

The young people of Tisdale have been turning out and enjoying a game each night with some drills thrown in for players to work on their skills. Tisdale has a long tradition of football and though they have had a tough time with Hudson Bay in years past their fans continue to support the team and each year look forward to this short spectacular season.

Though the new field at TMSS is well on its way with irrigation pipes in, a new fence installed and grass planted it is a long way from supporting play on it this year. Principal Larry Bedel has hinted that perhaps that Tisdale should take a year off from football this season until the new field is ready. This suggestion is not being met well and with the old TUCs field now in perfect condition and the players getting ready for this year it would be hard to stop the sun from shining.

It is important to note that the girl's soccer team made as much use of the TUCs field as has the football team so we expect to see at least one more season of activity on this great field. Even though the old TUCs building is about to vanish.