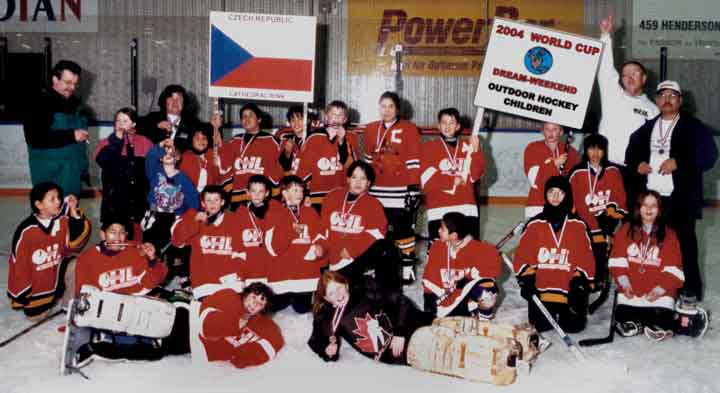 Dream Weekend Hockey Tournament
Scheduled for February 27-28
Regina, Thursday, February 26, 2004
Teams from Regina's outdoor hockey league will get a taste of indoor hockey on February 27th and 28th, 2004 when they participate in a World Cup style hockey tournament. The 2004 World Cup Dream Weekend was organized by a group of Regina volunteers.
The group's spokesman, Ken Jones, has been a volunteer with the league for ten years.
"Kids who play outdoor hockey often don't have the financial means to play in the more organized leagues," says Jones. The inner city children that come to play hockey at our local rinks, play "for the love of the game"
and I hear them say, that one day they wish that could play hockey in arenas like other children do. This weekend will be a dream come true for over 350 inner-city youth, boys and girls, ages 7-16, of every creed and colour.
"We want to give these kids an opportunity to dream that they are playing in an international hockey tournament".
The organizing committee has raised funds for the tournament so there will be no cost for the players. Each player will receive a gold medal in recognition of his or her dedication to outdoor hockey.
"The Outdoor Hockey League provides an important outlet for these kids," says Jones. "It teaches them sportsmanship and team work as they play in difficult weather conditions. Their dedication to this sport needs to be recognized."
The 2004 World Cup Dream Weekend starts on Friday, February 27, at 6:00 pm at the Staples, Mahon, and Ritchie Arenas. The official opening ceremony is scheduled for 9:00 a.m. on Saturday, February 28, 2004 at Sherwood Ice Sports Centre. Saturday's games will be played at Sherwood Ice Sports Centre and Ritchie Arena. Medals will be presented on Saturday to the players between 11:00am to 4:00 at their respective rinks. The public is welcome to attend the tournament and ceremonies. Admission to our 2004 World Cup Dream Weekend is free
Sponsors for the event include Saskatchewan Government Insurance, Sponsorship Program of Canada, SaskEnergy, City of Regina, Western Pizza, SaskTel, Crosstown AOTS, Dundee Development Corporation, Regina Y's Men's Club, High Noon Optimist Club of Regina, and Mondrian Canada Inc. (Former Azon Canada Inc.)
Mr. Jones was chosen " Volunteer of the Year " by the City of Regina in 1998 in recognition of his commitment and dedication as a volunteer. He is an active volunteer in numerous organizations, including the Regina Outdoor Hockey League, Regina Y's Men's Club, the Cathedral Area Arts Festival, and the Maritimer's Club of Regina.
For further information please contact:
Ken Jones or Debbie Jones at 522-4529

---
Return to Ensign - Return to Saskatchewan News
This page is a story posted on Ensign and/or Saskatchewan News, both of which are daily web sites offering a variety of material from scenic images, political commentary, information and news. These publications are the work of Faster Than Light Communications . If you would like to comment on this story or you wish to contact the editor of these sites please send us email.
Editor : Timothy W. Shire
Faster Than Light Communication
Box 1776, Tisdale, Saskatchewan, Canada, S0E 1T0
306 873 2004