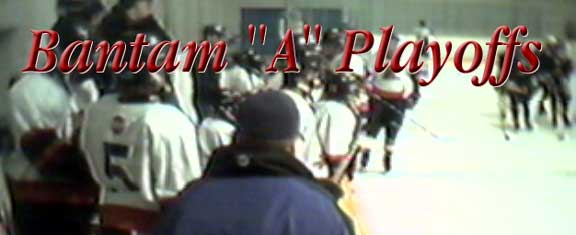 FTLComm - Tisdale - March 8, 2001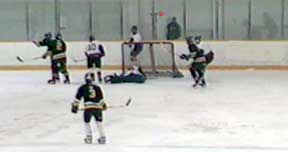 Last night (Wednesday march 7) it was time for the Tisdale
Bantam "A" team to take on their neighbourly rival the Nipawin "A" Hawks in a playoff game. This was a wide open hockey game with lots of action and end to end play. The first ten minutes slipped by at a break neck speed with few stoppages of play and each time holding the fort in their end for up to three minutes of intense play.

But Tisdale began to weary a bit and Nipawin was ready to take advantage of a downed goalie and the first goal was scored as you can see on the right. Both teams were very evenly matched and yet Tisdale found themselves jammed into their own end and began to take some chances resulting in a penalty.
That penalty cost them with goal two (below left) and shortly after again short handed Nipawin was able to squeeze in goal number three(below right).

But the guys in white were ready to come back and as the first period drew to a close Tisdale got on the score board for the first time in the game(below left) then only a minute later a shot from the point got between the goalie's pads and the goal post (below right) and it was a three to two hockey game

As the first period was nearly over the Tisdale team showed a little frustration picking up another penalty and Nipawin ended the period with goal number four (below right).

Period two was more of the same but Tisdale played much better and were looking good. In the third both teams slowed down a bit mid way through the period and Nipawin turned a four four tie into a seven to four win. But it was good fun hockey and there seemed to be one spectacular save after another at each end of the rink.

This hockey game was video taped by FTLComm despite having damaged the video camera the previous night. If you would like a copy contact FTLComm by e-mail or call 873 2004. Copies of the game are $15.

There were some interesting technical aspects to this game. With the camera damaged we used a video tape combination and for the first time made use of a second "bench Cam" this adds considerably to the dimension of the game and had there be time available we would have added a third point of view, that innovation will have to wait for another game. Unfortunately with the camera's carriage mechanism inoperative it was not until the second period that we were able to get rid of the annoying "index" on the screen.