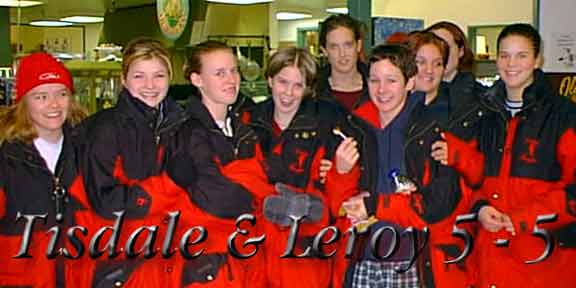 FTLComm - Tisdale - January 18, 2000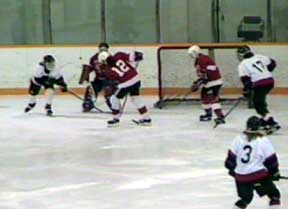 It may look like hockey and requires many of the same skills but Ringette is an entirely different sort of ice sport. Skating, situational positioning and passing make this game look and feel like the black rubber version but it has some elements that create extremely different scenarios.

Tisdale's Rambler Ringette team met the Leroy Lazers Monday evening as they played to a five all tie. For this writer this was a whole new experience as the game's intricacies will take a good deal more then one viewing to understand. Since the game evolved with little available ice time the game must take place in only two periods and things have to keep moving. No time for lengthy line changes and face-offs. The ring is place on the ice one time designated to be in possession and the whistle indicates the beginning of play. A frozen ring results in a swift return to action by one team being given what amounts to a free shot or the goalie given the ring to throw it into play.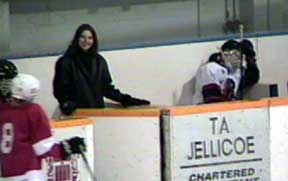 Body contact is penialised as is tripping but the real complexity in the game involves the lines. The ring must be passed over all blue lines and one third the way in from the blue line is the attack line and only three attacking players can be in that zone just as in the basketball key. These rules intended to speed up the game create an entirely different game strategy and Ringette is an amazingly face game.

Cara Forer is one of the aggressive and accomplished players on the Tisdale team and was the first to earn a tripping penalty in Monday's game (seen at right). Both teams had only four extra players so the girls get lots of action in the short two period game.

Leroy's coach is seen in the picture at right, Tracy Zentner Ochitawa, while Regan Will and Michelle Bue shepherd the Tisdale girls.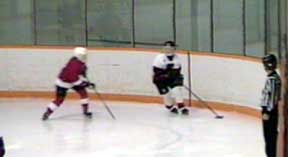 Unlike hockey, volleyball and basketball, ringette is a game suited to all size players with little advantage to the tall or otherwise different sized individual. It seems to require extremely good skating skills, marathon endurance and strong upper body as the player has to handle the stick with control and keep a constant pressure downward to hold the ring in place while skating. In this picture Crystall Styan sweeps through a turn with the ring firming under control. Cara Forer, Crystall Styan and Danielle Walker seemed to have played together for some time and demonstrated a high level of team play. Dayna Ballard was instrumental in several of the Tisdale goals as was Caitlyn Wisser who is a bit of a sharp shooter. Jaimes Bue is one of Tisdale's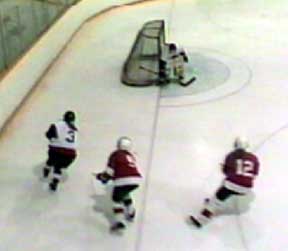 determined defensive players as she can been seen in this
picture just after she stole the ring from one of Leroy's leading scorers Derra Krieger.

Last night's game was a quick series of goals and counter goals. In each of the five goals Tisdale would put one into Nicole Taphorn's net and within thirty seconds like a bunch of bees the Leroy team would come swarming back often lead by Tennille Hanson (10) or Jenny O'Neill and even things up. Twice during the game Tisdale's penalties cost them a goal but not immediately as Rachelle Nalepa did a remarkable job of giving the opposition nothing but posts and cross bars to shoot at.

The repetitive scoring and counter scoring were not the only ways these two teams were so evenly matched. Both sides skated hard for the full game and both made extraordinary good use of the ice attempting rink wide passes on almost every advance down the ice. Because of the passing over the blue line every player was involved in the play and had to be constantly in motion. Tisdale tends to rely upon Danielle Walker to set up their break out plays from their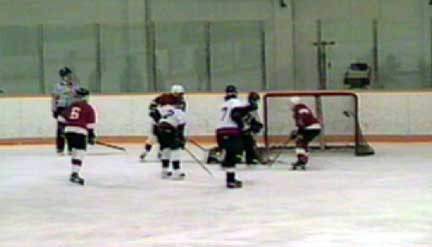 own end while Leroy liked to
put their offensive plays into action with Kari Damm and Sarah Thompson.

This picture shows Tisdale scoring their first goal as the ring can be seen as it hits the back of the net. Tisdale had moved the play around so that Leroy's goalie, Nicole Taphorn was caught on the right side of her net. In general she is a post goalie giving little openings to the opposition and stays on her feet.

Rachelle Nalepa is a very mobile goalie, playing all around her crease and staying on her feet most of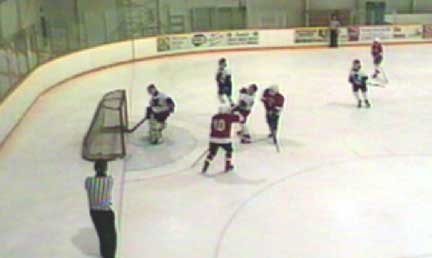 the time. Her high mobility
keeps her in the play and she really cuts down the angles with both posts and the cross bar in three consecutive shots before this, the first goal scored on her last night dribbled over the goal line as it got by her stick side.

Tisdale Jr. Ramblers
1 Rachelle Nalepa
2 Caitlyn Wisser
3 Jaimes Bue
5 Denita Eckren*
6 Jenny Stone
8 Michelle Smith
9 Chantelle Gagnon
10 Dayna Ballard
11 Shannon Classen*
12 Janelle Anderson*
14 Cara Forer
16 Crystall Styan
17 Danielle Walker (* were not playing in Monday night's game)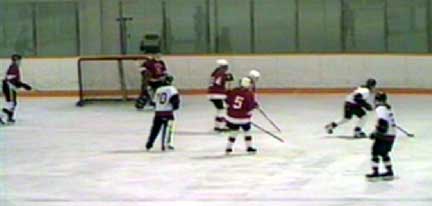 Chantelle Gagnon is carrying the ring at this point after having executed a perfect step turn.

Leroy Lazers
1 Nicole Taphorn
2 Jill Kirzinger
3 Holly Schoettler
4 Lindsey Zentner
5 Derra Krieger
6 Kari Damm
7 Sarah Thompson
8 Jenny O'Neill
9 Kristy McKnight
10 Tennille Hanson
11 Nancy Kirzinger
12 Lesley Zentner
If you haven't had the chance to watch a Ringette game in person come out and see what it is like. This past weekend the Tisdale team sponsored a tournament in Star City.