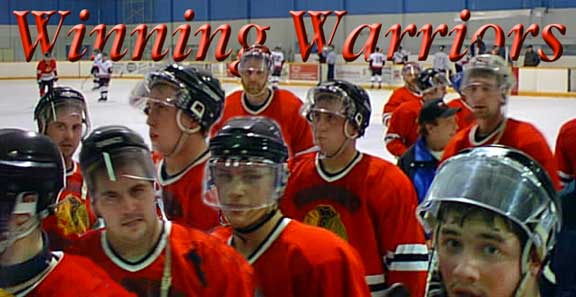 FTLComm - Tisdale - January 23, 2000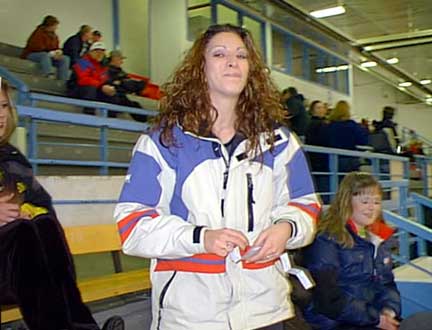 The fans, the lady on the right to won the $97 50/50 draw, the Mistatim warriors were all winners Saturday night in an exciting hockey game played at full speed. The Ramblers were the only losers as they were able to score only two goals and Warrior's Jeff Trombley while the Warriors who had been even with the Ramblers through the first two periods roared to life in the third and made it a 5 to 2 hockey game.

Just like Nipawin, the Mistatim team did it by keeping up to the hard skating Tisdale club and by not allowing them to set up plays close to the net. Jon Hamlin played a fine game and did his best to keep out those five goals while turning away about a third more
shots then did Trombley.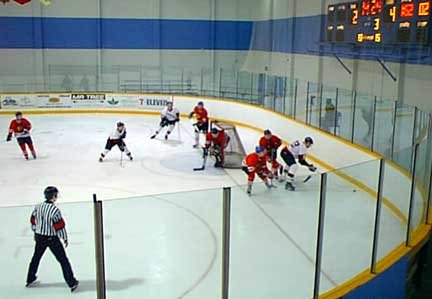 But the fans were treated to spectacular hockey with scoring plays galore from each team and a high energy. Both team with plenty of young and fast skaters kept changing lines quickly and every player had hot skates.

In this picture, taken with fourteen minutes left in the third Tisdale has their scorers set in position while two defensemen try to shut down the movement of Jeff Farber. There were few penalties in the game and the Ramblers were unable to capitalise on the advantage and when they had the penalty their defense pretty much kept the puck in the Warrior's end of the rink.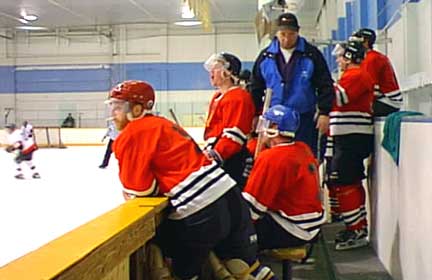 The Mistatim Warriors have
won their last two games as they have moved themselves up from last to second last position in a very evenly matched league while Birch Hills and Nipawin are battling away for second place. This was the Ramblers last home game of the regular season as they have three weekends of away games and are getting ready to participate in the provincial play offs.

Two Rambler players were not on the ice last night, Pete McAvoy was away, and Ryan Turcotte is off with an injury. Similarly, the Warriors had two players off, John Andris with an injured knee and Chris Mason recovering from a mild concussion.

But what a way to end the regular season, though for the Rambler fans it would have been nice to see their team win with so many players on the Mistatim team having player in the Tisdale minor system it is almost like home team playing home team and this was really a fabulous game. Like the Thursday night game with Nipawin the Rambler fans were treated to hockey as it was meant to be played and coming up a loser is a minor thing when the game is so well played.