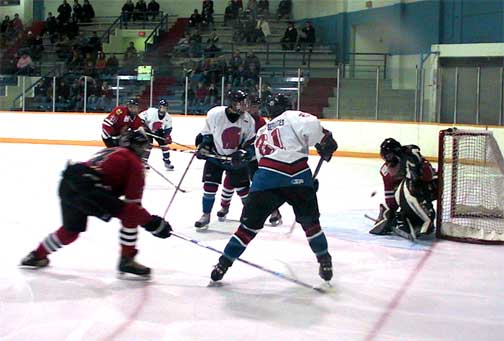 The Tisdale AAA Trojans are now in second place in the league. After seventeen games have lost four games and had one tie winning the last six in a row.
This year's team have been keeping themselves out of the penalty box. But to win games you need to put the puck in the net and the October player of the month, Tyler Henry has a lot to do with that.
Tyler Henry is the second highest goal scorer in the league with 26 points in 17 games . He has 17 goals and 9 assists. In Thursday nights game I wanted to get some action shots around the net. When I went through the pictures it was no surprise to discover that #21 was in each of these goal attempts.
The Trojans defeated Beardy's last night two to one. Their next three games are all home games with Saskatoon Blazers on Sunday the 18th, then Saturday and Sunday games with Swift Current on November 24 and 25.