Markwart Jeweller's player of the month award recipients; Shawn Cowie, Michael Rogoschewsky, tyler Henry, Cody Folstad and Regan Nabseth
Trojans wind up year with awards banquet
FTLComm - Tisdale - Thursday, April 24, 2008
Saturday, April 19th, the Tisdale Trojans wrapped up the 2007-2008 season recognising the achievements of players and supporters of the "AAA" midget hockey team.

The evening began with an outstanding banquet and short speeches from the team manager, Gary McPeak, Trojan president, Dwight Olson, assistant coach Colin Ruether and head coach Barry Archibald. Click on the QuickTime video clip on the right to see a few minutes of some of the speeches.

The team experienced a remarkably good season obtaining the earned respect of their fans and the league, finishing the season in the top three and getting through the first round of the play-offssystem system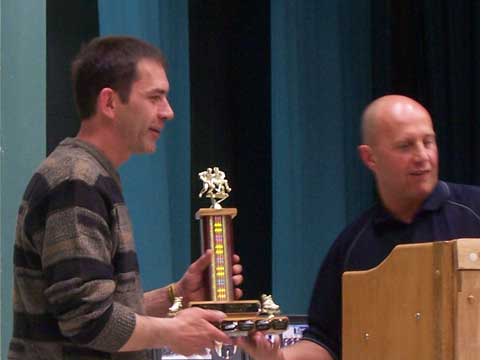 One of the first presentations of the evening was to the wives of the manager and coaches who provided the team's leadership with their total support adding considerably to the team's success this past season.
The Executive award was presented to Roy Skogland of Tisdale Fiood & Fire for their outstanding support of the Trojans this season as they fitted out the team with all of their away uniforms.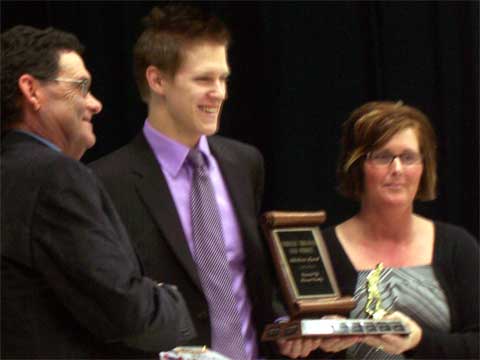 This year's recipient of the Scholastic Award was Brett Derkach who for the second year running was awarded the Most Dedicated Player.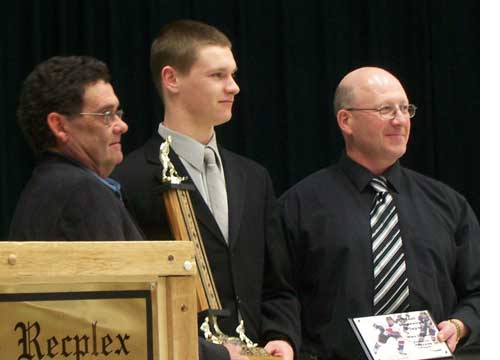 Defenceman Mike Dopko was the recipient of the Most Improved Player of the year award.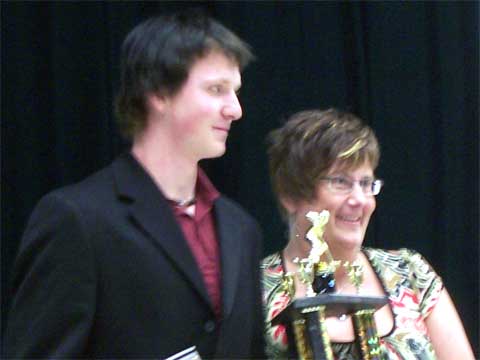 This year Koltyn Miller was recognised as the team's Top Defenceman and with Rodney Cowie shared the recognition of being Most Valuable Player in the play-offs.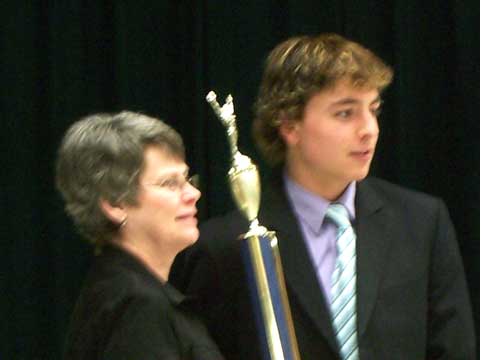 Achieving the distinguished Top Scorer Award and the team's Most Valuable Player Award was Tyler Henry with 36 goals in the regular season and 26 assists for a total of 62 points. During the play-offs he scored 5 goals and got two assists. During the regular season Tyler finished the year as seventh highest scorer in the league.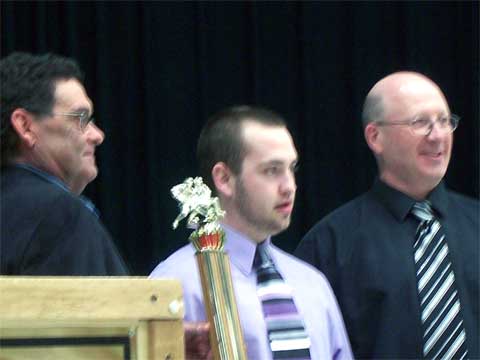 In his second year with the Trojans goalie Jesse McDonald played 31 games, with 18 wins, six loses and four ties with a goals against average of 2.72. Jesse was named this year's Most Popular Player.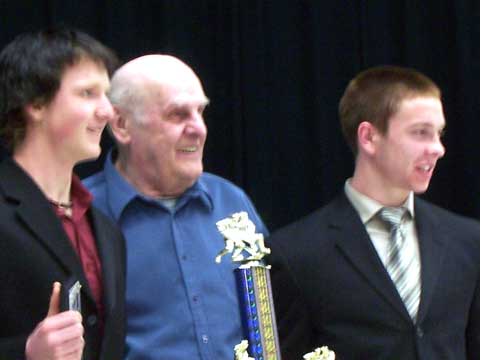 Seen here receiving the MVP Award for the play-offs with Koltyn Miller (left) is Rodney Cowie (right) who was also awarded the Hardest Working Player Award. Rodney played all nine games of the play-offs and scored two goals and got five assists while only serving six penalty minutes.
The Les Wallington Memorial award for Rookie of the Year was presented to Shawn Cowie. (Sorry no picture available)
The evening concluding with an outstanding slide show that told the story of a successful hockey season that involved both achievements on and off the ice as these young men made a contribution to their school, this community and to their team.
---
Return to Ensign
This page is a story posted on Ensign is a daily web site offering a variety of material from scenic images, political commentary, information and news. This publication is the work of Faster Than Light Communications . If you would like to comment on this story or you wish to contact the editor of these sites please send us email.
Editor : Timothy W. Shire
Faster Than Light Communication
Box 1776, Tisdale, Saskatchewan, Canada, S0E 1T0
306 873 2004