This month the Trojans have had three wins, two ties and lost Saturday night's game in overtime with the first place Notre Dame Hounds. The Trojans had been down in the game and made a spectacular come back in the third period tying the game and carrying it into overtime where they were unsuccessful.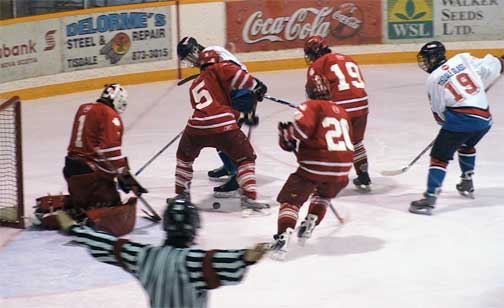 The team has had an excellent season and I am looking forward to the play-offs. The last home game of the regular season is this coming Wednesday night when the Yorkton Harvest comes to town. Then all that is left of the regular season are two games with Notre Dame as they will tackle the Hounds and Argos once more on Saturday and Sunday in Wilcox.
Watching the game yesterday afternoon it was hard to believe the quality in this Midget "AAA" league when we saw the outstanding play of the last place Argos as they were the first team to score Sunday afternoon and kept the Trojans on the heels for much of the first period.
Melville native Michael Rogoschewsky #11 was named the January player of the month Sunday afternoon and presented with a Roots Canada watch.