Precipitation, Yes Indeed, April Showers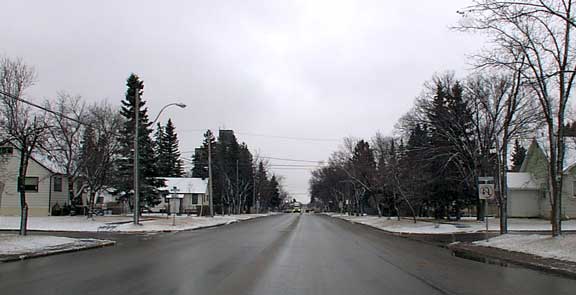 FTLComm - Tisdale - April 12, 2001
Yesterday morning began with some fog and very light rain, some might call it drizzle but throughout the morning there was a steady deposition of small amounts of precipitation With the afternoon the drizzle was interrupted by short periods of rain and it stayed with us through the evening. The night temperature just did not hold up above zero and slipped below a couple of degrees and the ground gradually turned to white. But in any form a spring shower is always a night and pleasant way of cleaning up the grime of winter. The picture above was taken a few minutes after nine this morning looking South on main street.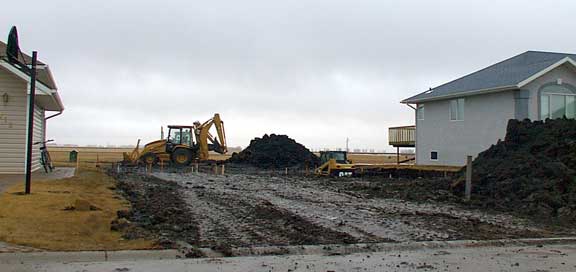 Work on digging the new basement for this new house on Newmarket was shut down Wednesday afternoon when the drizzle turned to a steady shower.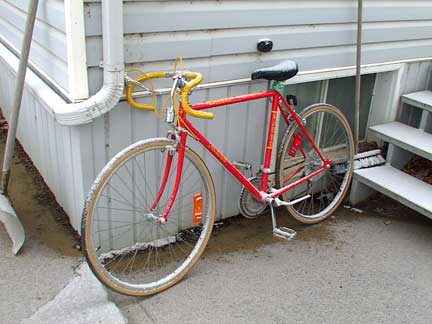 It is not the spectacular or the extreme that makes the most difference in our lives, it is the small things, the mundane, the subtle things that make up the important moments of our lives. The little things that mean a lot to us are perhaps the things that we mostly take for granted.

This picture of a bicycle with just a dash of snow is so plain simple and ordinary but the bright red and yellow contrast so greatly with the gray of the house and cement, the steps and the dusting of snow, that the bike stands out as something different and of significance to this scene.

But, what does it say, what is the hidden or obvious message in a picture like this?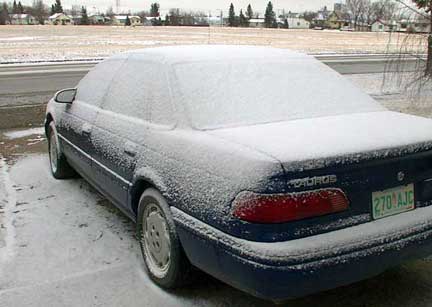 The cool temperature froze the moisture, giving the car and all around it, the white coating on top. Water transformed to an opaque solid brings out the form and shape of the object and rather than emphasising function it concentrates reality into its space containment and over all design features.

Though we assume that we can see, our vision is a product of our experience as well as the characteristics of light and shadow. At times the forces of nature intercede and introduce us one more time to that which is and what it is like. We need to take time to reflect upon what is and what things are like rather then what they do and what they are for.