Green once more
FTLComm - Tisdale - Monday, May 31, 2004

When we looked out side Saturday morning the windows were smeared with the steady falling rain, puddles were forming and it was good. I went out to visit some of the Saturday garage sales and discovered that the rain was falling heavily enough to require the wipers to be on. Now for people living in other parts of Canada that must sound odd but for us in Saskatchewan, a rain that is continuous enough to require the windshield wipers on rather then delayed for mist is a really big deal.

Though the drought this spring has been more of an issue in the middle western portion of the province it has been definitely on the dry side in the Tisdale area. However, the very low temperatures throughout all of May have prevented things from blowing away. The grass has remained brown and not even the weeds are getting a good start.

On Sunday morning after it raining all of Saturday, not heavily but continuously it was drizzling a bit, my mother would call that kind of day "spickin' an' rainin'!" The visibility was reduced almost like a fog but it was mist in the air. Even though it had not been above 12º Saturday the moisture had a profound affect on things. These pictures were taken around our yard Sunday morning with water dripping off leaves that were not even there on Thursday. The back lawn which has looked pretty tough now appears to need mowing and the old TUCs field is also in need of a visit by Parks and Recreation's mower.

Dull cloudy skies and rain often make a person feel a little depressed for it seems that we humans seem to thrive on sunlight just like the grass and leaves, but I noticed that there was a spring in my step and in my neighbours this morning when I went into the post office. Doug told me with a genuine smile on his face that "wasn't this a great day."

Now Doug makes his living during the summer months harvesting alfalfa for the dehydration plant and the normal start up time for that plant is June first. With frost and very low temperatures it will be several weeks before Doug is making the rounds in field after field of fresh alfalfa because growth has been amazingly retarded.

Doug said he had been over to Edmonton on the weekend and coming back they drove through steady rain in the Lloydminister area where things have become desperate when it comes to describing growing conditions.

The drought area that was once concentrated in that dust inferno from Assiniboia to Swift Current and over to Kindersley has been gravitating northward during the past three years. Winter precipitation was available to that area while from the Saskatchewan River north to the Battlefords has become Saskatchewan's new desert.

But there continues to be rain today (this morning below) and everyone is pleased to see and smell the freshness that it brings. Weather forecasts are predicting warmer temperatures this week and my father went to his cabin at Crooked Lake this morning.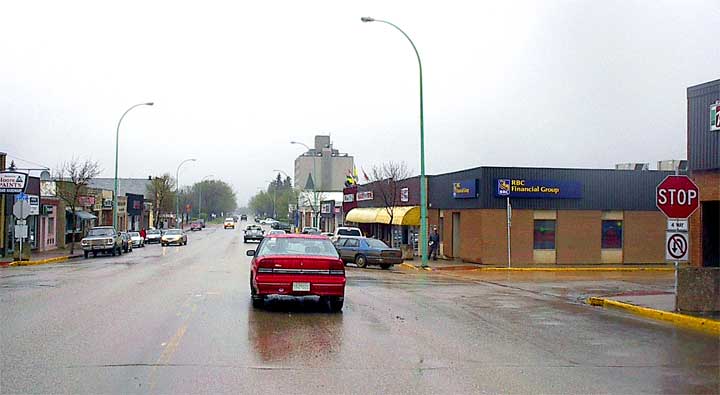 Return to Ensign - Return to Saskatchewan News
This page is a story posted on Ensign and/or Saskatchewan News, both of which are daily web sites offering a variety of material from scenic images, political commentary, information and news. These publications are the work of Faster Than Light Communications . If you would like to comment on this story or you wish to contact the editor of these sites please send us e-mail.
Editor : Timothy W. Shire
Faster Than Light Communication
Box 1776, Tisdale, Saskatchewan, Canada, S0E 1T0
306 873 2004