May snow storm sweeps southern prairies
FTLComm - Winnipeg - Tuesday, May 11 2004 Images by Timothy Shire II and Andrew Shire

The site of snow in May is hardly a novelty but this morning weathermen were warning of heavy snowfall across the southern portion of Saskatchewan. There was no sign of snow in Regina but six hours to the east it was snowing heavily in Winnipeg.

The scene at the bottom of the page is what Tim saw this morning when he left for work so he captured an image from his door step then went out into the street and captured the QuickTime VR seen here on the right of this page. If this image does not appear you need to download a more recent version of Quicktime.

Meanwhile Tim's brother Andrew was also about to leave for work and snapped the picture of his jeep being buried under falling snow. Andrew e-mailed us his image at 8:09 with the single comment "today....oh ya!" and at 8:31 Tim's images for the QuickTime Vr arrived.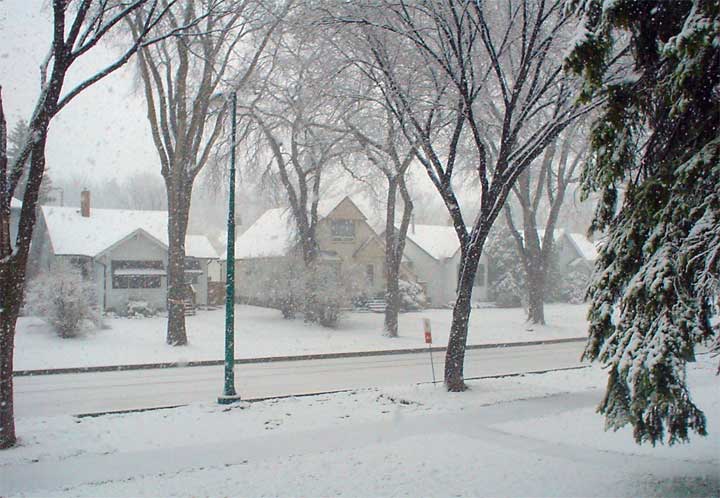 Return to Ensign - Return to Saskatchewan News

This page is a story posted on Ensign and/or Saskatchewan News, both of which are daily web sites offering a variety of material from scenic images, political commentary, information and news. These publications are the work of Faster Than Light Communications . If you would like to comment on this story or you wish to contact the editor of these sites please send us email.

Editor : Timothy W. Shire
Faster Than Light Communication
Box 1776, Tisdale, Saskatchewan, Canada, S0E 1T0
306 873 2004

e