SaskWater officials were measuring the flow of water on the highway 35 bridge south of Nipawin this afternoon well aware that Environment Canada had warned of percipitation throughout this weekend which would greatly affect already high water levels.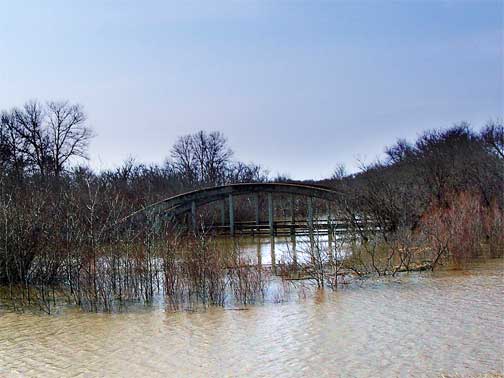 These pictures are of an over flowing stream south of Codette on highway 35. The old bridge which is no longer in use is well under water which suggests that this flood level is well above stream levels for which that old bridge was originally designed.
It seems that the Doghide and other streams that flow into the Carrot River, though running full are doing their job and water is moving along with only moderate expected flooding in low lying areas that are usually affected each spring.
The concern today was that the storm that is expected to bring considerable percipitation to the whole province will make things much worse for streams like the one in these pictures.