Though the pasture on the south side of the Doghide bridge on the east side of Tisdale has a little water filling in the low spots the little Doghide river is not in flood stage at this time. This is far different then the way it was a year ago today.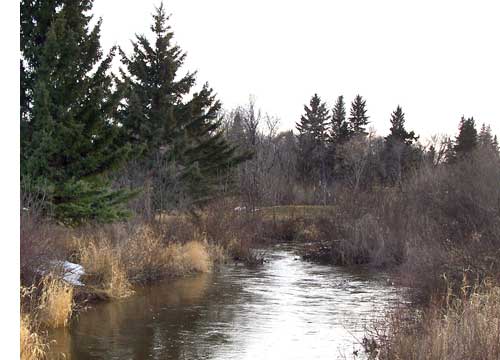 I drove past the Riverside Golf course which was underwater last year and the river is well within its banks. This picture (right) was taken at the little bridge on the north side of the golf course. In the picture you can see that the flow of water is steady but still well under control.
The picture at the bottom of the page was taken on the west side of the old highway bridge north of town and the water there is making its way over the rapids and beyond that it is not spilling out into the flood plain around the bridge on highway 35.
This of course does not mean the river will not flood as there will be plenty of water to the south that will be on its way through this area but the fields are clearing of snow and there is a very good chance that this will be a flood free spring. We do need to remember that some rain or even a heavy series of showers could change things very quickly.