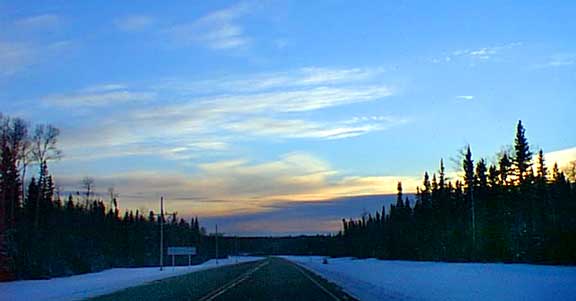 Converging Sunsets
FTLComm - Prince Albert - Saturday, February 2, 2002, by: Judy and Timothy Shire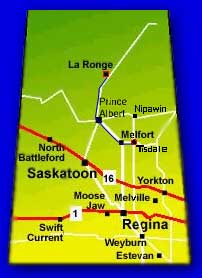 Friday afternoon at four it was time for Judy to leave La Ronge and a few miles South she captured this image of the road toward Prince Albert. The pictures on this page are in sequence from each camera but it is hard to know where the two converge in time as I set out from Tisdale an hour later for Prince Albert and without having discussed our intentions the sky lit up and both of us began clicking away.

From LaRonge to Prince Albert you drive through boreal forest with only a few settlements along the way. Its trees and sky for more than two hours.

The abreviated map show the relative postions of the two orginating locations as the two of us converge toward Prince Albert. Though Saskatchewan is pretty flat when you get to Prince Albert about half the province, almost all entirely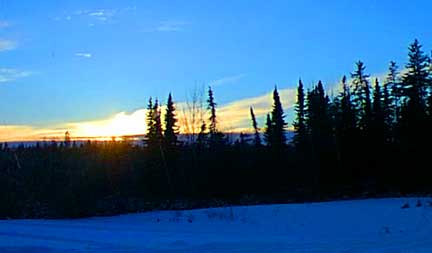 uninhabited is still to the North. The settlements are sparse villages and mining communities and the country is empty of people.

The Precambian shield and its bare rock is exposed at LaRonge and from there North the trees grow shorter and after Stanley Mission there are few rivers just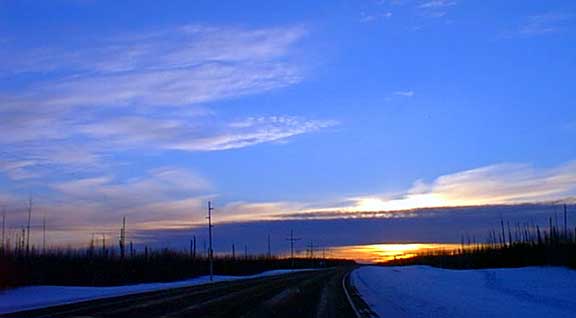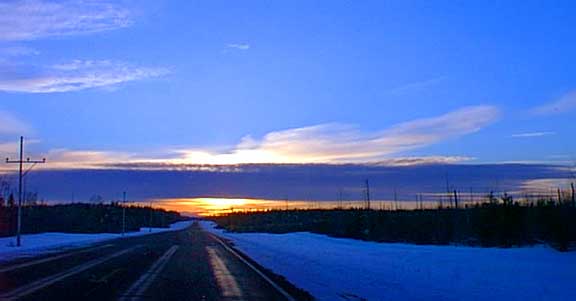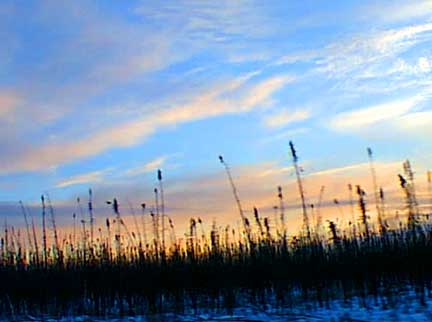 a mass of endless lakes that seem to cover most of the landscape. Even between LaRonge and Prince Albert the drainage is poor resulting in kettle, glacial formed lakes with deep musket and centuries of dead trees.

Fires leave areas like this with emerging black spruce covering the wet peat soil that is only a few inches to a few feet deep over the submerged bedrock.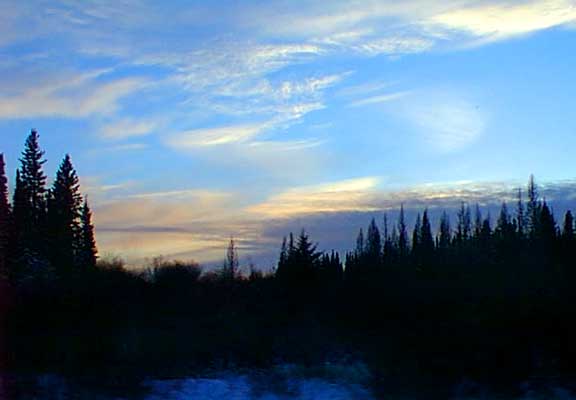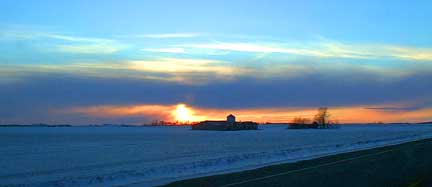 The pictures above were all from Judy's camera and this one is my first taken between Tisdale and Star City with the sun still above the horizon with the image below right at the Star City turn off.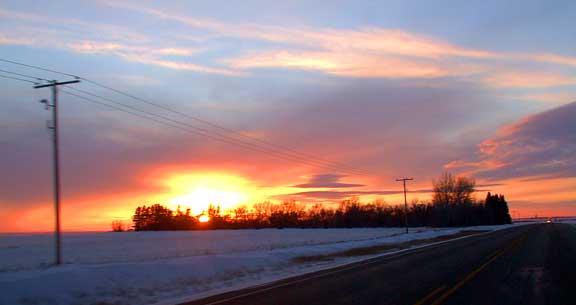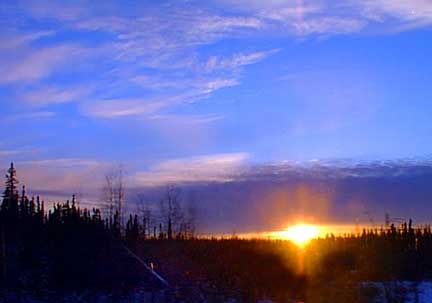 Meanwhile this picture on the LaRonge road looks to have been taken about the same time and as you can see the cloud formations are difference as they are more than two hundred kilometres apart.

The hostile cold of the past days now departing with the arrival of some cloud as it was -16 in LaRonge and -10 in Tisdale at the time these pictures were taken.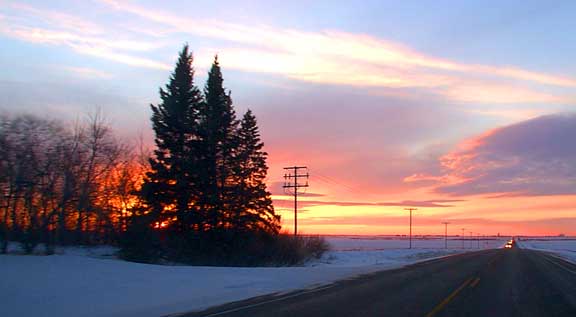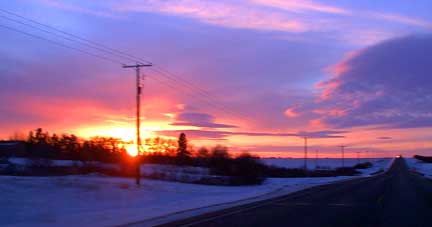 We are now approaching Melfort and the sun is quickly slipping over the horizon igniting the three levels of cloud in the Western sky.

At the junction of highways #3 and #6 on the South side of Melfort the sun is just sliding behind the edge of Melfort's earth.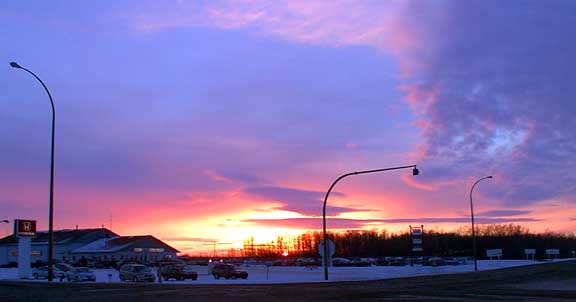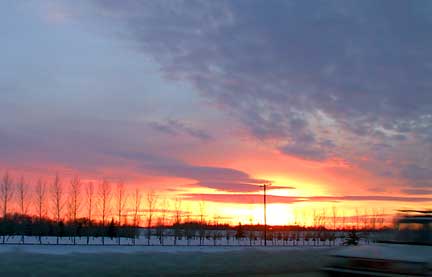 This picture is taken right in Melfort looking out over the golf course while the image below shows the UGG terminal on the West side of the city.

The CBC's provincial news is just about over as Colin Grewer goes over the weather. The biggest news story of the week is still putting a smile on everyone who heard as Chris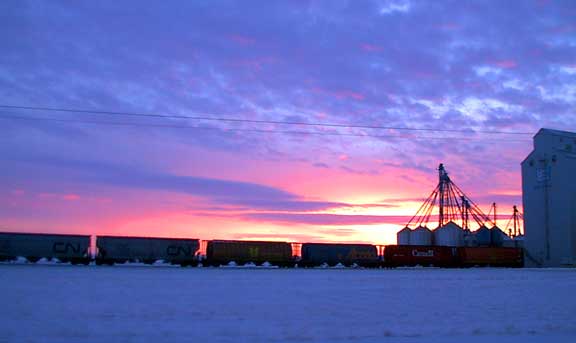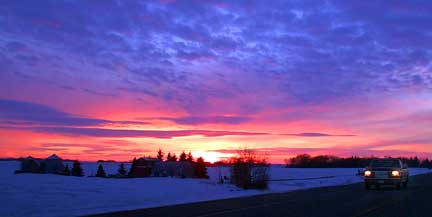 Axeworthy had his car stolen minutes before he was to give a speach outlining the government's plan to deal with the 4,000 car thefts in Regina each year. Seemingly a good plan the commission that worked it out have no idea what is the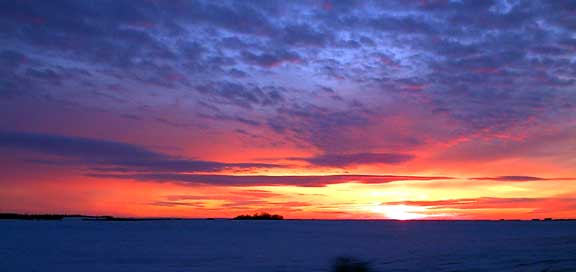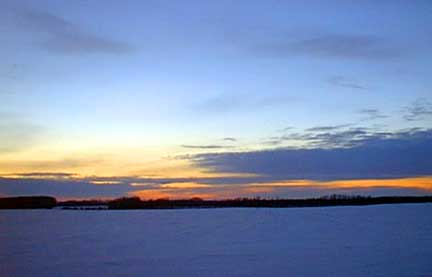 reason for this crime wave in the province's capital.

Well before Kinistino the sun is now below the horizon and the picture on the right taken near Paddockwood as the forest open up to agriculture half an hour North of the city.

Below now near Kinistino the oranges and reds turn to indigo as the spectrum is part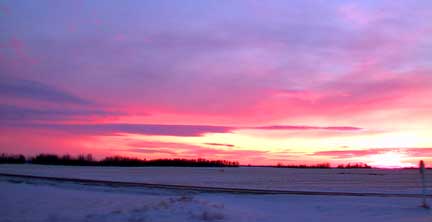 of each sunset as we head toward purples and darkness.

The last picture is back on highway #2 with surrounding farmland North of Prince Albert.