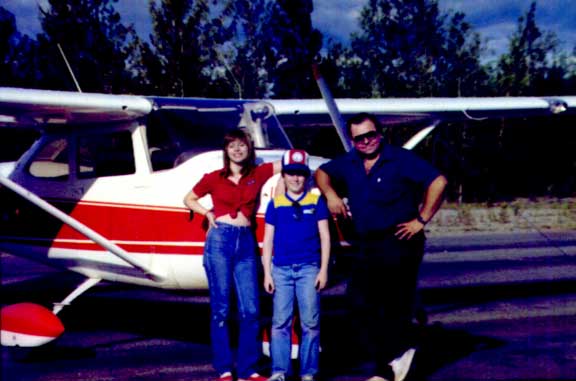 Pictures by: Timothy Shire II
Let's Go For A Ride
FTLComm - Watson Lake Yukon - Wednesday, November 28, 2001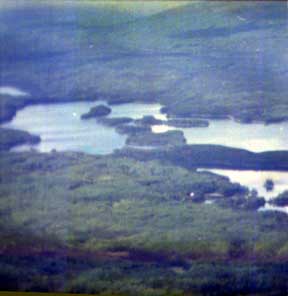 I spent the summer of 1981 learning to fly and on June 5th and 6th the following summer with my trusty number one son as copilot, we flew our Cessna 172 from Moose Jaw to Watson Lake. Like anything else, if you want to develop your skill, you need to practice and on every opportunity I would be out to the airport and off into the Mountain air.

These pictures were taken on August 19, 1982 by Tim II. My friend Glenn White lent me his daughter Shawnalea and Tim's buddy Glenn to go for a short afternoon flight.

Our objective was to leave the airport drift over the canyon South of town then head North East over the mountains to Blind Lake (right) and return. The whole flight would take forty-eight minutes.

Watson Lake was named after an early explorer of the area a Mr. Watson who married and lived out his life in a cabin just North of the lake the bore his name. His grand daughter Linda McDonald was a teacher in the Watson Lake High School.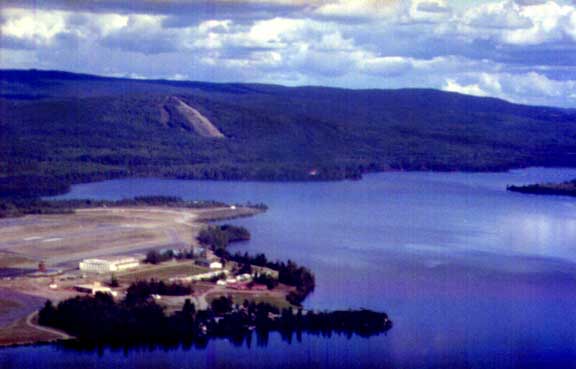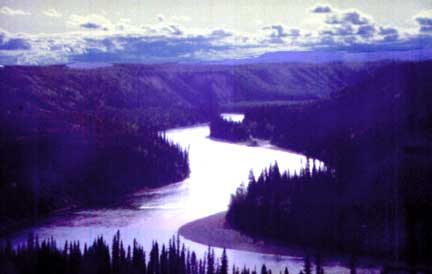 The picture above shows the East end of Watson Lake and the airport that was established by Sheldon Luck the pioneer aviator who trail blazed the route to Alaska with the threat of Japanese invasion spurring on development of this World War II air base and others like it.

Just West of the airport and Lake is the Liard valley with the powerful river being jammed into a tight canyon about two miles South of the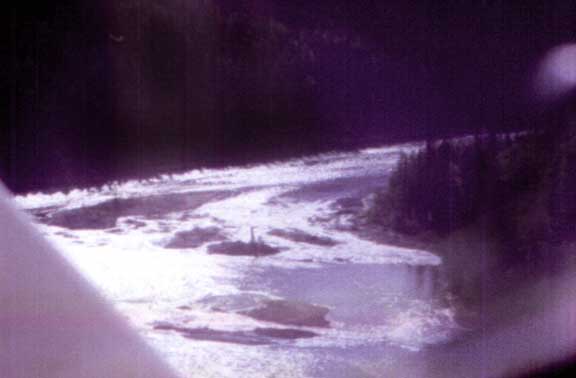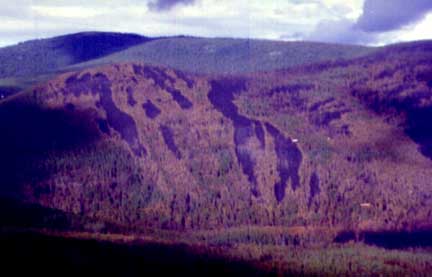 townsite. This picture shows the exit from the steep walled canyon which is less than a mile long. The picture above that Tim squeezed off as we wheeled through the canyon shows the rapids. This spectacular run through the canyon was always done with the little 172 at its maximum speed allowing me to handle any down drafts that we often encountered.

The Yukon is forested and can be ravaged by nasty fires these marks on the right show the devastation of an alpine fire.

In August the mountains to the North of town were already getting their winter caps and as you can see the sky to the North was low and hostile. Half an hour further North would take us over the North West Territory's border to the mining town of Cantung.