Peeking Through the Cracks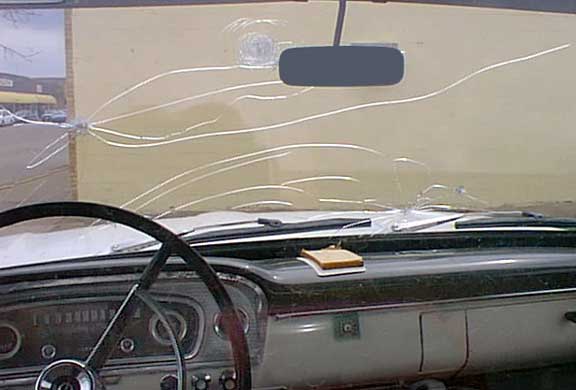 FTLComm - Tisdale - May 21, 2000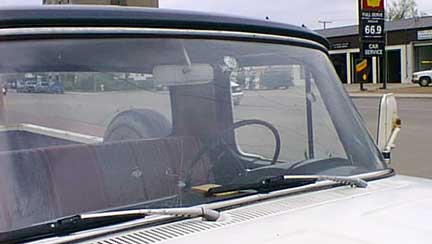 The picture above shows the driver's view of the world through this decorated windshield. The picture on the right from the front left of the vehicle obscures somewhat the fractures but the image below clearly tells the story of woe.

One wonders at what point the owner will consider it a good idea to replace the riddled piece of glass. The aging pick up is in outstanding shape and well worth the expense of repair.

Though the cracks have wandered around a bit four times this windshield has been pasted with very serious hits.

If you are driving on a road surface with lots of loose rocks slow down quickly when you meet oncoming traffic and pull over as far to the right side as you can. This will remarkably reduce the amount of damage from flying material. Holding your speed and staying right in your lane will invariable result in stone strikes that will require replacing your windshield. A single crack or chip in the wiper area of a windshield warrants immediate replacement. With the continuing loss of highway surfaces throughout the province gravel patches and in some case hard surfaces being replaced with gravel will increase the amount of potential damage to your vehicle.