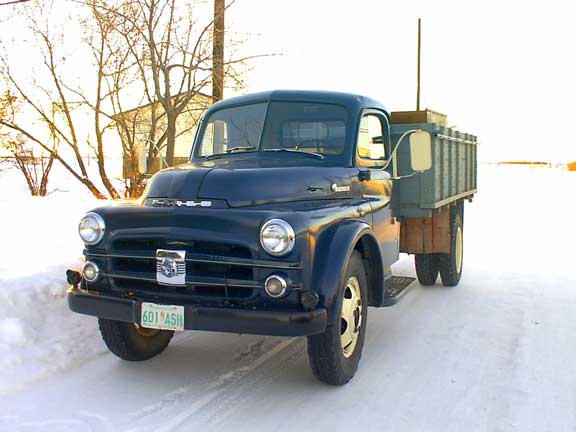 FTLComm - Tisdale - January 5, 2001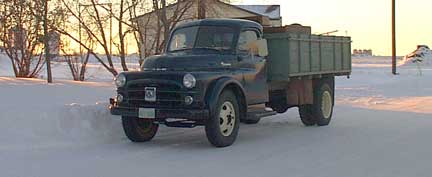 Though we are not certain this is likely a Dodge Fargo two ton from the mid fifties. When this truck went into service few Saskatchewan farms were further then five to seven miles from the nearest delivery point. With railway villages spotted across the prairies every seven miles this was all you need to move your grain from the field or bin to the elevator.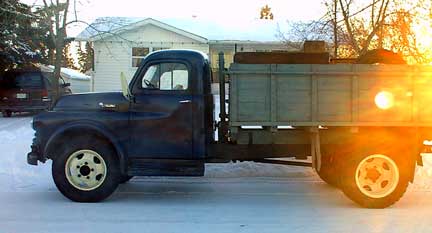 The beautifully preserved machine is complete with a hydrallic dump box and original paint. Chrysler used the same truck design with its Plymouth and Fargo trucks and had the two brands as it would have Plymouth and Doge dealerships. It was in the fifites that Chrysler took the bold move to go to unibody construction on its cars and with the fifty seven model having the amazing tail fins that marked them for just plain funny design. But while the cars were breaking new ground the trucks were
built with the solid and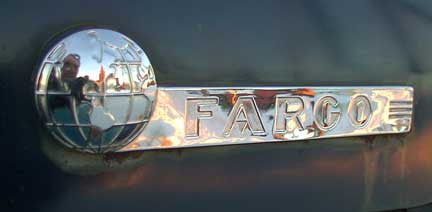 dependable signs that were
from the forties. Heavy metal, with tough gear boxes and differentials.

It was not until the sixties that Chrysler began making pick ups and heavy trucks with bodies that were essentially tin cans. But this beauty was long before that era and its remarkable condition suggests that someone really cared about this truck. This is the side emblem from the hood. Below is the leading emblem from the front of the truck.